Shrimp Dumplings with Sesame Dipping Sauce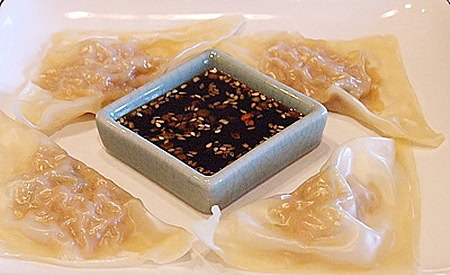 Yield: 12 dumplings (Serv. Size: 3 dumplings + 2 teaspoons sauce)
Prep Time: 20 minutes
Cook Time: 10 minutes
Shrimp Dumplings with Sesame Dipping Sauce
This is a delicious appetizer with a lovely, light sauce. Perfect for those who are watching their calorie intake.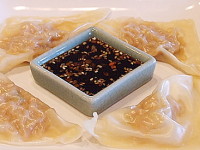 Ingredients:
DIPPING SAUCE:
1/4 cup reduced-sodium soy sauce
1/4 cup seasoned rice vinegar
1 whole scallion, finely chopped (about 1 Tablespoon)
1 teaspoon toasted sesame seeds
pinch of crushed red pepper
DUMPLINGS:
1/2 pound medium shrimp, peeled & deveined
4 whole scallions, coarsely chopped
2 Tablespoons water chestnuts, chopped
1 Tablespoon minced peeled fresh ginger
1 Tablespoon dry sherry
1 Tablespoon oyster sauce
1 teaspoon Asian (dark) sesame oil
1 clove garlic, minced
1 large egg white
36 (3-inch) wonton wrappers (round or square)
Directions:
1. Prepare dipping sauce: Whisk all ingredients in a bowl until blended; set aside.
2. Prepare filling: Process all dumpling ingredients (except wonton wrappers) in a food processor until smooth. Transfer to a bowl.
3. Arrange wonton wrappers on a dry work surface. Place 1 teaspoon of the filling in the center of each wrapper. Brush the edges of each wonton wrapper with water, then fold half circles (or triangles), pressing edges to seal. Repeat with remaining filling and wrappers, to make 36 dumplings. Place prepared dumplings on a baking sheet that has been lightly dusted with cornstarch. Cover with damp paper towels to avoid drying out.
4. Put 8 to 10 dumplings in a steamer basket; set in a saucepan over 1-inch of boiling water. Cover tightly and steam until dumplings are cooked through, about 7 minutes. Transfer the dumplings to a serving tray. Serve immediately with the dipping sauce.
Tips:
*Look for wonton wrappers in the refrigerator case or produce section of your grocery store. Oyster sauce will be found in the Asian section of your grocery store.
*To toast sesame seeds, place them in a small dry skillet over medium-low heat. Cook, shaking the pan and stirring constantly, until fragrant, 1-2 minutes.
Nutrition Facts-Amount Per Serving of 3 dumplings + 2 teaspoons sauce
Calories 106, Calories From Fat (10%) 10, Total Fat 1.2g, Sat Fat .2g, Cholesterol 31mg, Sodium 390mg, Carbohydrates 18g, Dietary Fiber 0.72g, Sugar 0.30g, Net Carbs 17g, Protein 7g
WW POINTS per serving:
Points Plus Program: 3 Old Points Program: 2
Leave a Comment