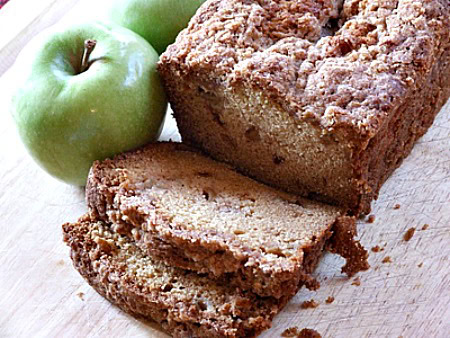 Yield: 1 loaf
Prep Time: 15 min
Cook Time: 55 min
Dutch Apple Bread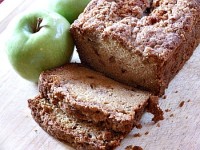 Ingredients:
BREAD:
1/2 cup butter, softened
1 cup granulated white sugar
2 large eggs
1 teaspoon vanilla extract
2 cups all-purpose flour
1 teaspoon baking soda
1/2 teaspoon salt
1/3 cup buttermilk or sour milk
1 cup peeled and chopped apples
1/3 cup walnuts, chopped (optional)
STREUSEL TOPPING:
1/3 cup all-purpose flour
1/2 teaspoon ground cinnamon
1/4 cup butter
2 tablespoons granulated white sugar
2 tablespoons light brown sugar
Directions:
1. Preheat oven to 350°F. Grease bottom only of 9x5x3-inch loaf pan.
2. In a large bowl, cream together butter and sugar. Beat in eggs and vanilla.
3. In a separate bowl, whisk together flour, baking soda and salt. Add dry ingredients to wet ingredients a little at a time, alternating with milk. Fold in apples and nuts (if desired). Sprinkle streusel on top.
4. Bake for 55 minutes or until toothpick inserted in center comes out clean.
Leave a Comment