Sweet & Spicy Chicken Lettuce Wraps
This recipe has been featured in a post on The Recipe Girl blog: Eating Light After a Holiday Weekend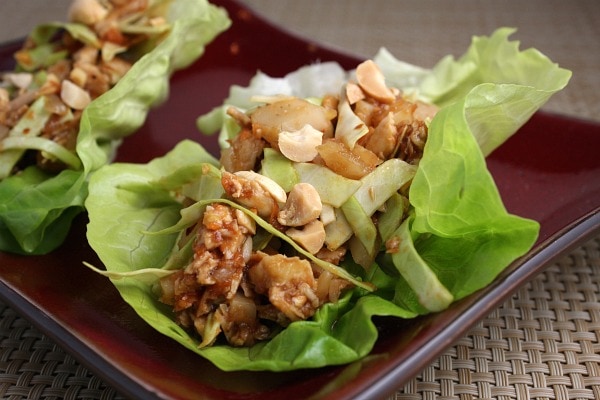 Yield: 4 servings (3 lettuce wraps per person)
Prep Time: 25 min
Cook Time: 3 min
Sweet & Spicy Chicken Lettuce Wraps
Just what you need for dinner after a weekend of indulging! These are light, yet filling too. The sauce, lightly spiced and sweet, is mixed with chicken and cabbage & topped with peanuts. Tuck it in a lettuce leaf and you're good to go!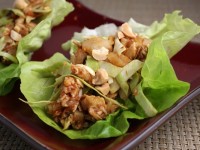 Ingredients:
3 Tablespoons unsalted, dry-roasted peanuts, roughly chopped
3 Tablespoons hoisin sauce
2 Tablespoons cider vinegar
2 teaspoons low-sodium soy sauce
1 teaspoon fresh minced ginger
1 teaspoon dark sesame oil
1/2 teaspoon crushed red pepper
1/2 teaspoon minced garlic
2 cups thinly sliced cabbage
1/2 cup grated carrot
1 cup canned, sliced water chestnuts, drained
1 cup finely diced cooked chicken breast
12 Bibb/Butter lettuce leaves
Directions:
1. Place peanuts in a small nonstick skillet over medium-high heat; cook 3 minutes or until lightly browned, shaking pan frequently. Remove pan from heat; set aside.
2. In a small bowl, combine hoisin, vinegar, soy sauce, ginger, oil, pepper and garlic in a small bowl, stirring well with a whisk.
3. In a medium bowl, mix 2 Tablespoons peanuts, slaw, water chestnuts, and chicken; add sauce and toss well.
4. Spoon about 1/3 cup of chicken salad in the center of each lettuce leaf; Sprinkle each lettuce wrap with remaining 1 Tablespoon peanuts. Serve immediately.
Nutritional Information per serving:
Serving size: 3 lettuce wraps
Calories per serving: 197
Fat per serving: 7.4g
Fiber per serving: 3.4g
Protein per serving: 16.5g
Cholesterol per serving: 37mg
Carbohydrates per serving: 18.2g
WW POINTS per serving:
Points Plus Program: 5 Old Points Program: 4
10 Responses to "Sweet & Spicy Chicken Lettuce Wraps"
Leave a Comment