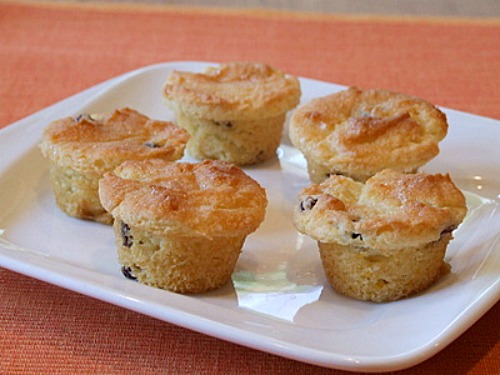 Yield: 2 dozen mini muffins
Prep Time: 15 min
Cook Time: 12 min
Orange Miniature Muffins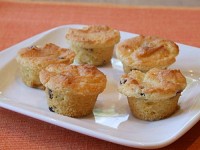 Ingredients:
1/2 cup granulated white sugar
juice of 1 orange
2 cups all-purpose flour
1 teaspoon baking soda
1 teaspoon salt
8 tablespoons (1 stick) salted butter, softened
1 cup granulated white sugar
3/4 cup sour cream
1/2 cup raisins (optional)
1/2 cup chopped nuts (optional)
1 teaspoon grated orange zest
Directions:
1. Preheat oven to 375°F. Spray mini muffin pans with nonstick spray.
2. Combine 1/2 cup sugar and orange juice in a small bowl; stir until sugar dissolves. Set aside.
3. Sift flour, baking soda and salt into medium bowl; set aside.
4. In a large bowl, use an electric mixer to beat butter and sugar until creamy. Add sour cream and flour mixture alternately, beating just until moistened after each addition. Fold in raisins and nuts (if using) and orange zest. The batter will be stiff.
5. Spoon batter into prepared pan. Bake 12 to 15 minutes or until the muffins test done. Let muffins sit in tins for about 10 minutes. Gently remove muffins and dip tops quickly in orange juice mixture. Place on a wire rack and let stand until cool.
Tips:
*You may also place muffins on rack that is sitting on top of a rimmed cookie sheet. Drizzle a teaspoon of the orange juice mixture on top of each muffin.
Leave a Comment