South Carolina BBQ Pork Sliders
Here's a slow cooker recipe that is perfect for parties: South Carolina BBQ Pork Sliders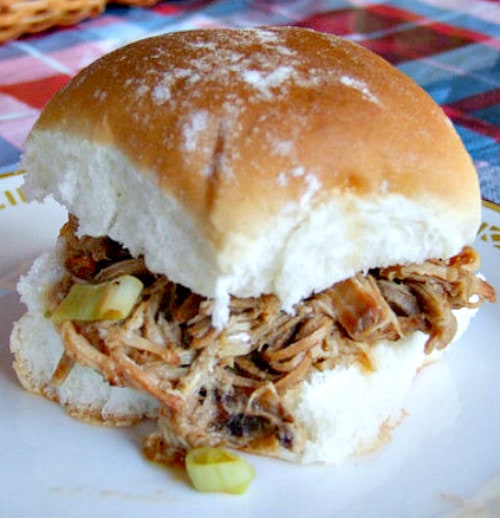 Yield: 8 servings
Prep Time: 20 minutes
Cook Time: 8 hours
South Carolina BBQ Pork Sliders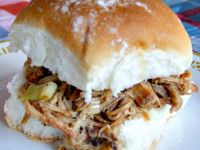 Ingredients:
1/4 cup packed brown sugar, divided
2 tablespoons paprika
2 tablespoons dried minced onion
1 1/2 teaspoons chili powder
1 1/2 teaspoons salt
1/2 teaspoon garlic powder
1/2 teaspoon allspice (optional)
4 pounds bone-in pork shoulder roast
3/4 cup apple cider vinegar
1/2 cup sliced green onions
24 small dinner rolls, sliced in half
hot sauce (optional)
Directions:
In a small bowl, mix 1 tablespoon of the brown sugar, paprika, minced onion, chili powder, salt, garlic powder and allspice. Sprinkle 1 tablespoon of this mixture into the bottom of a slow cooker. Rub remaining mixture over pork. Add vinegar and remaining brown sugar to slow cooker; stir to mix. Add pork.
Cover and cook on low 8 to 10 hours until pork is fork-tender. Remove pork to cutting board and pull into shreds. Return to slow cooker; add green onions and toss to coat.
Place about 1/4 cup of pork mixture onto each bun bottom. Add a sprinkle of hot sauce, if desired. Top with bun tops and serve immediately.
Tips:
Use a slow-cooker liner to save on clean-up time (Reynolds makes them).
Liners also make sure your meat is sealed in & moist and they prevent burning.
Serve with cole slaw!
SOURCE:
RecipeGirl.com (Adapted slightly from
Woman's Day
)
Leave a Comment