Creme Brulee French Toast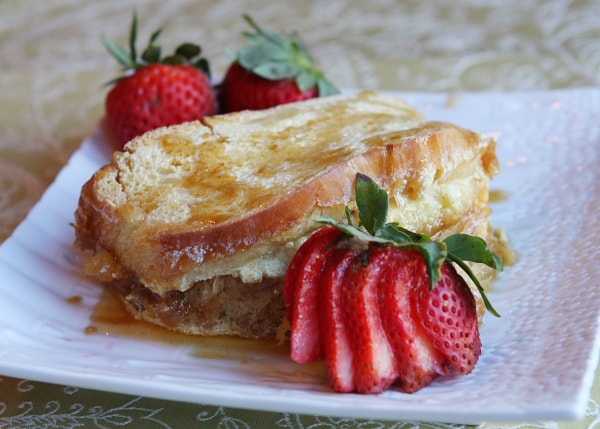 Yield: 6 servings
Prep Time: 20 min + chilling time
Cook Time: 40 min
Creme Brulee French Toast
I can't say enough about this recipe- it's rich and flavorful and, although I'm sure it's full of calories, it's a must-have for a brunch. Very, very good, and the best part is that you can have it in the refrigerator overnight and it's ready to bake in the morning.
Ingredients:
1 cup brown sugar, packed
1/2 cup unsalted butter
2 Tablespoons corn syrup
1 loaf French or Challah bread, sliced into 3/4-inch slices
1 1/2 cups half & half
5 large eggs
1 teaspoon vanilla extract
1 teaspoon Grand Marnier
1/4 teaspoon salt
Directions:
1. Heat brown sugar, butter and corn syrup in a heavy saucepan over medium heat until well blended, stirring frequently. Pour the syrup into a 9x13" baking dish, tilting the dish to cover. Arrange the bread slices in a single layer over the syrup. Just squish the bread pieces in so that they all fit in there.
2. Whisk half and half, eggs, vanilla, liqueur and salt in bowl until well blended. Pour over the bread layer. Cover with plastic wrap and chill for 8 to 24 hours.
3. Preheat oven to 350 degrees F. Remove dish from refrigerator and let stand until room temperature (about 30 minutes). Bake on middle rack for 35-40 minutes or until edges are golden brown and puffed. Serve with a sprinkle of powdered sugar, and/or syrup, if desired.
Tips:
*If you do not wish to use Grand Marnier (a liqueur), you can add orange juice in its place.
*Serve with fresh berries.
*Garnish each serving with a sprig of mint.
18 Responses to "Creme Brulee French Toast"
Leave a Comment