This recipe has been featured in a post on The Recipe Girl blog: A Flaming Great Dessert. This cake is gluten-free adaptable– please see notes below the recipe.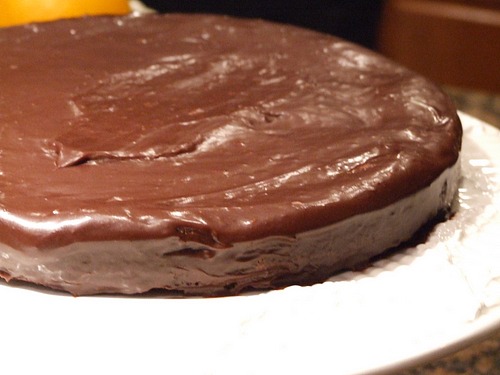 Yield: 12 to 15 servings
Prep Time: 25 min + chilling time
Cook Time: 45 min
Chocolate Truffle Cake
I have made this quite a few times. It is my go-to special dessert- easy and every bite is like eating a truffle. Perfect for the chocolate lover in your life.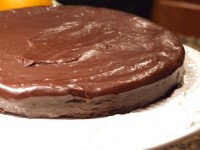 Ingredients:
CAKE:
8 ounces semisweet chocolate
1 cup granulated white sugar
1 cup unsalted butter
4 large eggs, well beaten
ICING:
1 cup heavy whipping cream
10 ounces semi-sweet chocolate chips
TOP:
heavy whipping cream, whipped (optional)
Directions:
1. Preheat oven to 350°F. Grease 8-inch springform pan liberally with cooking spray.
2. Melt butter in a medium-sized glass bowl in the microwave (about 1 to 2 minutes). Add the chocolate and microwave for 30 more seconds. Let sit for about 3 or 4 minutes, then add the sugar and stir until blended. When cool, stir in the beaten eggs. Pour batter into prepared pan and bake for about 30 to 35 minutes, or until a crust forms on top. Cool to room temperature; then refrigerate overnight in pan.
3. Remove cake from pan, and place cake on a wire rack over a baking sheet.
4. Make icing by placing whipping cream in a large saucepan. Heat to almost boiling. Remove from burner and add chocolate chips. Let sit for about 4 to 5 minutes. Then stir to blend.
5. Pour ganache over the cake and spread the icing over the sides. It will be a glossy icing. Carefully remove iced cake to a serving plate.
6. Serve each sliver of cake with a dollop of whipped cream.
Tips:
*If you are preparing this recipe as GLUTEN FREE, just make sure you use GF chocolate.
*Use good quality chocolate for this recipe- it will make a difference.
*You definitely need the whipped cream on top to "cut" some of the richness of the chocolate (or vanilla ice cream).
*The serving size is a "sliver" of cake- it's incredibly rich, so I think you'll find that a sliver is plenty.
Leave a Comment