If you're preparing this recipe as gluten free, please see the tips below the recipe…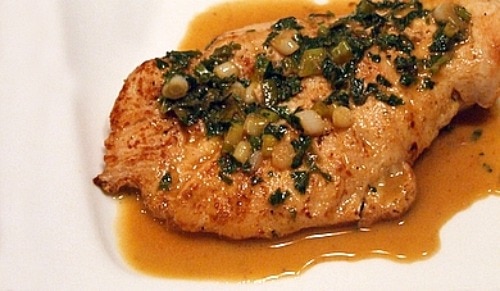 Yield: 4 servings
Prep Time: 20 minutes
Cook Time: 10 minutes
Chicken Breasts Diane
Tasty sauce in this recipe- our family loves this one...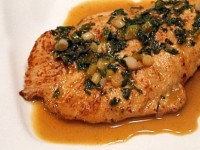 Ingredients:
4 large boneless chicken breast halves
1/2 teaspoon salt
1/4 teaspoon pepper
2 Tablespoons olive oil, divided
2 Tablespoons butter, divided
3 Tablespoons chopped green onions
juice of 1 lime
2 Tablespoons brandy (optional)
3 Tablespoons chopped parsley
2 teaspoon Dijon mustard
1/4 cup chicken broth
Directions:
1. Place chicken breast halves between sheets of waxed paper or plastic wrap. Pound slightly with mallet. Sprinkle with salt and pepper.
2. Heat 1 Tablespoon each of oil and butter in large skillet.
3. Cook chicken over high heat for 3 minutes on each side. Do not cook longer or they will be overcooked and dry. Transfer to warm serving platter.
4. Add onions, lime juice and brandy, if used, parsley and mustard to pan. Cook 15 seconds, whisking constantly.
5. Whisk in broth. Stir until sauce is smooth. Whisk in remaining Tablespoons of butter and oil.
6. Pour sauce over chicken. Serve immediately.
Tips:
*If preparing this recipe as GLUTEN FREE, make sure you purchase a brand of chicken broth that is designated as GF.
Nutritional Information- Per Serving
Calories 352, Calories from Fat 113, Total Fat 12.5g, Sat Fat 4.23g, Cholesterol 148mg, Sodium 526g, Potassium 660mg, Carbohydrates 1.6g, Dietary Fiber .35g, Sugar .29g, Net Carbs 1.27g, Protein 55g
WW POINTS per serving:
Points Plus Program: 6 Old Points Program: 8
Leave a Comment