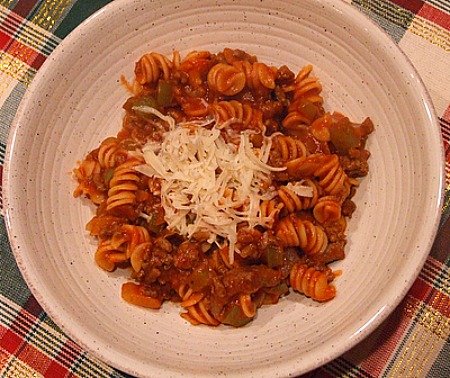 Yield: 6 to 8 servings
Prep Time: 20 min
Cook Time: 30 min
Tomato- Beef Pasta
This really fit the bill for comfort food on a chilly day! So easy to prepare in one pot. I used whole-grain Barilla pasta and needed to add about 1 cup of water during cooking until the pasta was done. Next time I'll add my favorite: a few sliced mushrooms!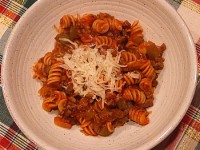 Ingredients:
1 pound ground beef
1 medium onion, chopped
1 medium green bell pepper, chopped
1 pound pasta (rotini, penne or elbow)
46 ounces tomato juice
3 Tablespoons ketchup
2 teaspoons brown sugar
2 teaspoons chili powder
salt and pepper to taste
shredded Parmesan cheese
Directions:
1. In a large pot, brown meat and drain fat. Add onion and bell pepper and sauté for a few minutes, until vegetables get tender. Sprinkle on chili powder, brown sugar, salt and pepper. Add ketchup and tomato juice and stir. Pour in pasta (dry) and stir to coat. Bring to a boil, reduce heat to low; cover and simmer until al dente (about 20 minutes). Stir occasionally to make sure that the juice is cooking the noodles evenly. Add water a half cup at a time if more liquid is needed.
2. Serve topped with grated Parmesan.
Leave a Comment