Ceviche- Style Shrimp and Avocado Tacos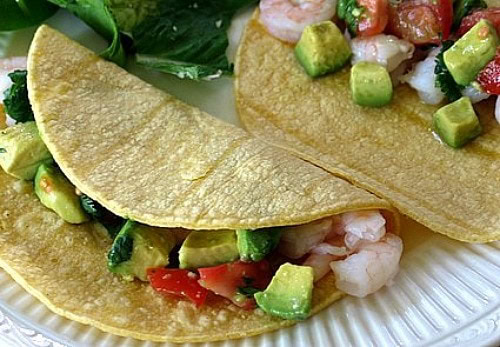 Yield: 12 tacos
Prep Time: 20 min
Cook Time: 5 min
Ceviche- Style Shrimp and Avocado Tacos
Nice to prepare on a warm day- they are summery and fresh...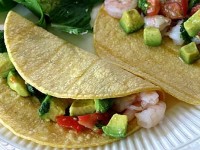 Ingredients:
3 large limes, juiced
1/2 cup chopped fresh cilantro
2 Roma tomatoes, chopped
2 large avocados, peeled and diced
3/4 teaspoon sea salt
1 teaspoon green Tabasco sauce
12 (6-inch) corn tortillas
1 pound cooked, peeled medium shrimp (frozen is fine- defrost, rinse and drain)
Directions:
1. In a medium bowl, mix lime juice, cilantro, tomatoes, avocado, salt and Tabasco. Blend well and refrigerate while you get tortillas ready.
3. Warm tortillas as desired- heated in the oven or fried.
4. Divide the shrimp between the tortillas and top with the avocado mixture. Serve immediately.
Tips:
*If preparing this recipe as GLUTEN-FREE, just make sure that you are using a brand of corn tortillas that is designated as GF.
Leave a Comment