Greek- Style Shrimp over Rice
My whole family loves having this Greek Style Shrimp over Rice for dinner!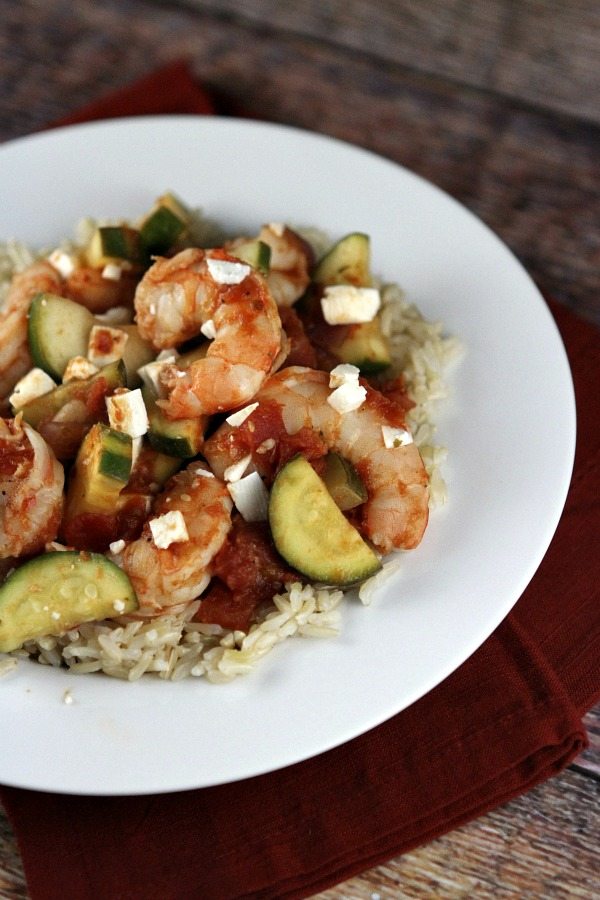 Yield: 4 servings
Prep Time: 20 min
Cook Time: 25 min
Greek- Style Shrimp over Rice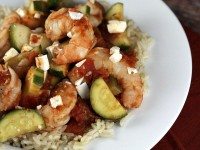 Ingredients:
2 teaspoons extra-virgin olive oil
1 cup chopped red onions
1 clove garlic, minced
3 cups sliced zucchini
One 28-ounce can diced tomatoes, drained,
1/4 cup dry white wine
2 teaspoons dried oregano
1/2 teaspoons black pepper
1/4 teaspoon salt
1/4 teaspoon crushed red pepper flakes
1 pound large shrimp, peeled and de-veined
1/2 cup crumbled feta cheese (2 ounces)
3 cups cooked white or brown rice
Directions:
1. Heat oil in a large skillet or saucepan over medium-heat. Add onions and garlic. Cook for 2 minutes, stirring often. Add zucchini and cook for 5 more minutes, until zucchini is softened.
2. Add tomatoes, wine, oregano, black pepper, crushed red pepper flakes and salt. Bring to a boil. Reduce heat to medium. Cook, uncovered, for 10 minutes.
3. Add shrimp and feta cheese. Increase heat to medium high. Cook until shrimp turns pink, about 5 minutes. Stir often.
4. Serve over hot, cooked rice.
One Response to "Greek- Style Shrimp over Rice"
Leave a Comment