Oatmeal Pumpkin Seed Bread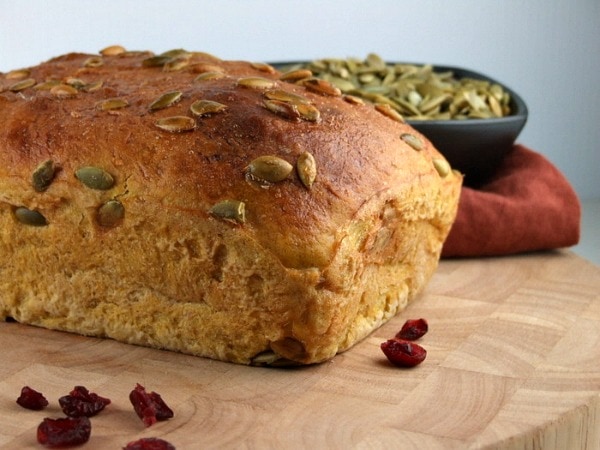 Yield: Three 1 1/2 pound loaves
Prep Time: 60 min + rising/refrigeration time
Cook Time: 45 min
Oatmeal Pumpkin Seed Bread
A fun fall bread to make! This was my first foray into the Artisan Breads in 5 Minutes a Day cookbook. I look forward to experimenting more!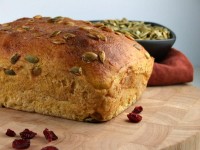 Ingredients:
1 pie pumpkin (the small sugar-pumpkins)
2 cups lukewarm water
1 1/2 tablespoons granulated yeast (any yeast will do)
1 Tablespoon kosher salt
5 Tablespoons unsalted butter, melted
1/3 cup honey
1/2 cup old-fashioned oats
3/4 cup whole wheat flour
3/4 cup rye flour
4 cups unbleached all-purpose flour
neutral- tasting oil for greasing the pan (I used a little shortening)
1/4 cup toasted pepitas (hulled pumpkin seeds), plus a few more for the top
1/4 cup dried cranberries
egg wash (1 egg beaten with 1 Tablespoon water)
Directions:
1. Preheat oven to 350°F. Split pumpkin in half starting at the stem and place cut side down on a silicone mat or a lightly greased cookie sheet. Bake for 45 minutes. The pumpkin should be very soft all the way through when poked with a knife. Cool slightly before scooping out the seeds. Scoop out the roasted flesh of the pumpkin and mash it with a fork or puree it in your food processor. Set aside 1 cup for the dough and reserve the rest for other recipes that utilize pumpkin puree.
2. Mixing and storing the dough: Mix the yeast and salt with the water, melted butter and honey in a 5-quart bowl, or a lidded (not airtight) food container.
3. Mix in oatmeal, pumpkin, and flours without kneading, using a spoon, a 14-cup capacity food processor (with dough attachment), or a heavy-duty stand mixer (with a dough hook). If you're not using a machine, you may need to use wet hands to incorporate the last bit of flour.
4. Cover (not airtight) and allow to rest at room temperature until the dough rises and collapses (or flattens on top), approximately 2 hours. (I moved mine to a clean, lightly oiled bowl and covered it with a dish towel).
5. The dough can be used immediately after the initial rise, though it is easier to handle when cold. Refrigerate in a lidded (not airtight) container and use over the next 9 days.
6. On baking day: Lightly grease 9x5x3-inch nonstick loaf pan. Dust the surface of the refrigerated dough with flour and cut off a 1 1/2 pound cantaloupe-sized piece. Dust the piece with flour and quickly shape it into a ball by stretching the surface of the dough around to the bottom on all sides, rotating the ball a quarter- turn as you go.
7. Flatten the dough with your hands and roll out into a 1/2-inch-thick rectangle. As you roll out the dough, use enough flour to prevent it from sticking to the work surface but not so much as to make the dough dry.
8. Sprinkle seeds and cranberries over the dough and roll the dough up to encase them. Fold the dough over again to work the seeds into the dough.
9. Using a small amount of flour, form the dough into a loaf shape. Place the loaf in the prepared pan and allow to rest and rise for 2 hours (or just 40 minutes if you're using fresh, unrefrigerated dough).
10. Twenty minutes before baking time, preheat the oven to 350°F., and place an empty broiler tray on any other shelf that won't interfere with the rising bread.
11. Just before putting bread in the oven, brush the loaf with egg wash (I sprinkled additional pepitas on top too), and place it on a rack near the center of the oven. Pour 1 cup of hot tap water into the broiler tray and quickly close the oven door. Bake the loaf for 45 to 50 minutes, until deeply browned and firm.
12. Allow to cool before slicing or eating.
Tips:
*I was able to find rye flour in the health food section of my regular market... Bob's Red Mill brand makes rye flour.
*Pepitas can usually be found in the Latin food's aisle of your grocery store. To toast pepitas, put them in a dry frying pan over medium heat. Stir them often until fragrant and beginning to turn color.
*Substitute canned pumpkin puree if you'd rather not roast your own pumpkin.
*Next time I make this recipe, I will try making two loaves in 8-inch loaf pans rather than the 9-inch to see if they produce slightly bigger loaves.
Source: RecipeGirl.com (via Artisan Bread in Five Minutes a Day)
One Response to "Oatmeal Pumpkin Seed Bread"
Leave a Comment