Turkey Vegetable Soup
Here's a hearty soup recipe made with ground turkey, added vegetables, tomato, beans and spices:  Turkey Vegetable Soup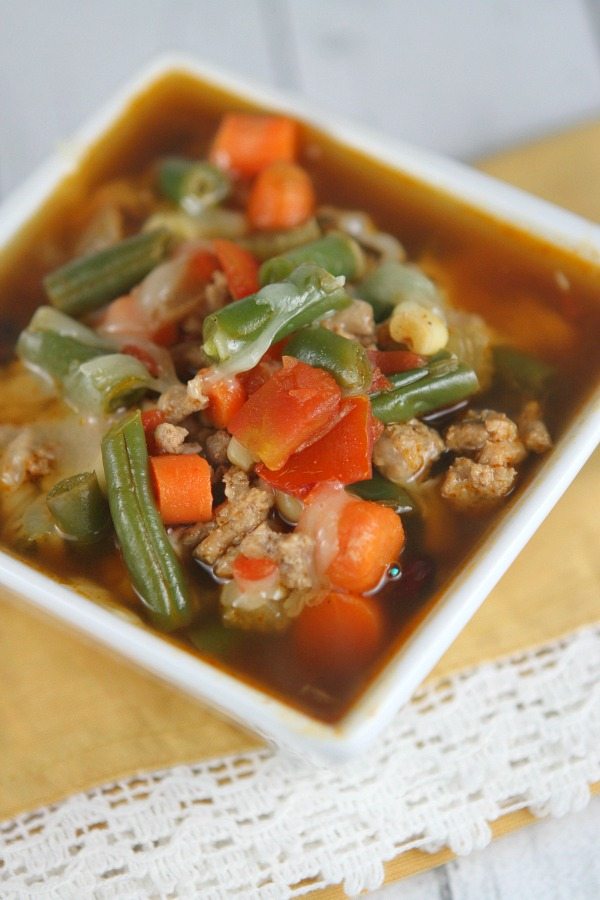 Yield: 6 servings
Prep Time: 20 minutes
Cook Time: 20 minutes
Turkey Vegetable Soup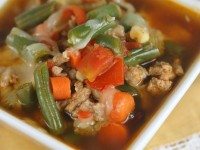 Ingredients:
1 cup finely chopped celery (about 2 stalks)
1/2 cup finely chopped onion
1 1/2 teaspoons minced garlic
1 1/2 pounds 99% fat-free ground turkey breast
3 cups fat free beef or chicken broth
1 cup sliced carrot (about 2 large)
1/2 cup trimmed fresh green beans, cut in 1-inch lengths
1/2 cup frozen whole-kernel corn
1 1/2 teaspoons ground cumin
1 teaspoon chili powder
2 whole bay leaves
One 15-ounce can kidney beans, rinsed and drained
One 14.5-ounce can diced tomatoes and green chiles, undrained
6 tablespoons shredded Monterey Jack cheese, optional
Directions:
Heat a Dutch oven over medium-high heat. Coat pan with cooking spray.
Add celery, onion, garlic and turkey. Cook 5 minutes or until ground turkey is browned, stirring to crumble. Add 3 cups of beef stock and remaining ingredients except cheese; bring to a boil. Cover, reduce heat, and simmer 20 minutes or until vegetables are tender. Discard bay leaves.
Ladle 1 1/2 cups soup into each of 6 bowls; top each serving with 1 Tablespoon of cheese.
Here are a few more turkey soup recipes you might enjoy: