This recipe has been featured in a post on The Recipe Girl blog: Kid- Friendly Halloween Recipes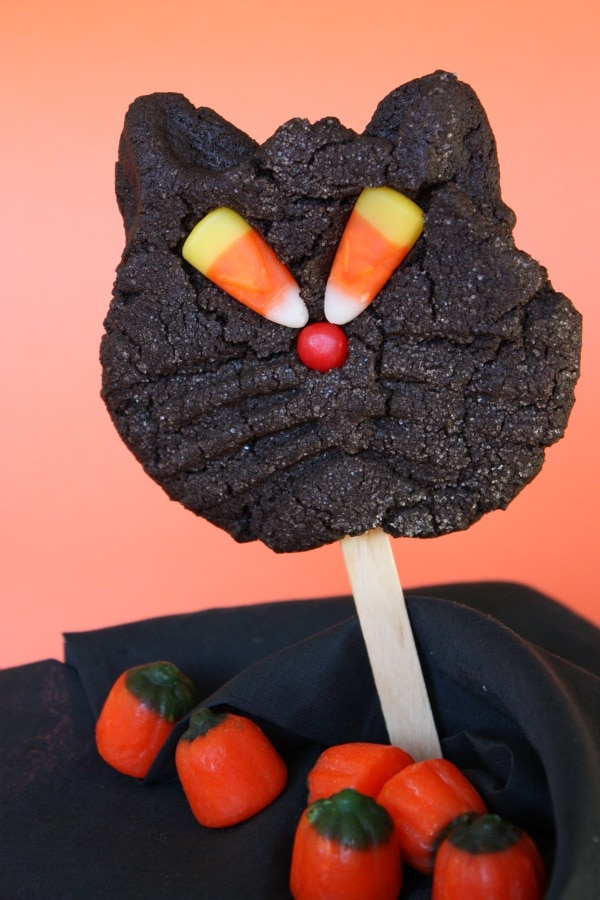 Yield: 24 cookies
Prep Time: 35 min
Cook Time: 12 min
Black Cat Cookies
Such cute, kid-friendly Halloween cookies...
Ingredients:
1 cup salted butter, softened
2 cups granulated white sugar
2 large eggs
3 teaspoons vanilla extract
3 cups all-purpose flour
1 cup unsweetened cocoa (I used 1/2 black cocoa to make them darker)
1/2 teaspoon baking powder
1/2 teaspoon baking soda
1/2 teaspoon salt
24 wooden craft sticks (popsicle sticks)
48 pieces candy corn
24 red-hot candies
Directions:
1. Preheat oven to 350 degrees. Line baking sheets with parchment paper (or lightly grease baking sheets).
2. In a mixing bowl, cream butter and sugar. Beat in eggs and vanilla. Combine the flour, cocoa, baking powder, baking soda and salt; gradually add to the creamed mixture.
3. Roll dough into 1 1/2-inch. balls and place 3-inches apart on prepared baking sheets.
4. Insert a wooden stick into each ball of cookie dough. Flatten with a glass dipped in sugar. Pinch top of cookie to form kitty cat ears. For whiskers, press a fork twice into each side of the cookie. Bake for 10-12 minutes or until cookies are set. Remove from the oven - immediately press on candy corn for eyes and red-hots for noses. Remove to wire racks to cool.
Tips:
*Be sure to make the balls of dough large enough... it they're not big enough, there won't be enough room on the cat's face to add the eyes and nose. It's good to test out a few before you prepare them all.
6 Responses to "Black Cat Cookies"
Leave a Comment