This recipe has been featured in a post on The Recipe Girl blog: Kid Friendly Halloween Recipes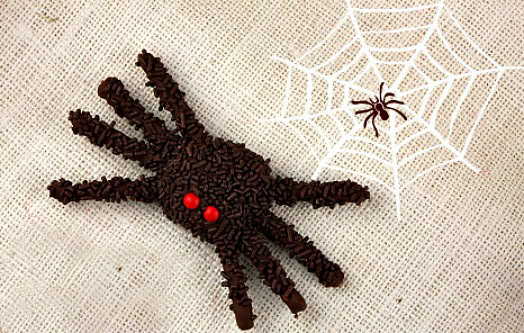 Yield: 23 cookies, using a 1 1/2 Tablespoon cookie scoop
Prep Time: 60 min
Cook Time: 10 min
Tarantula Cookies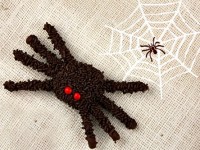 Ingredients:
2 cups all-purpose flour
1/2 teaspoon baking powder
1/2 teaspoon salt
1/8 teaspoon baking soda
10 tablespoons unsalted butter, softened
1/2 cup light brown sugaar
1/4 cup granulated white sugar
1 large egg
1 teaspoon vanilla extract
2 tablespoons unsweetened cocoa powder
thin pretzel sticks (you'll need about 200 total, so a bag of these is fine)
1 large bag (11 1/2-ounces) milk chocolate chips (you might another 1/2 bag)
1 Tablespoon vegetable oil (or a little more if you need it thinner)
Chocolate sprinkles
Small red candies (cinnamon Red Hots work great)
Directions:
Tips:
*Don't refrigerate the dough- it will be hard to stick in the pretzel sticks in.
*The pretzels are a bit precarious... be gentle when handling the baked cookies and doing the chocolate drizzle. You might injure a few spiders in the process (lost legs), but be assured that they're still delicious!
*Recycle the sprinkles that collect under the racks.
*If you have time to let these set for several hours before serving, they'll have proper time to set. If they still seem pretty chocolatey to the touch, serve on little pieces of parchment paper or on flattened out large cupcake papers (for easy handling by eaters).
*While this isn't a quick and easy recipe, it's one that's fun to do with the kids and it turns out cute and delicious.
3 Responses to "Tarantula Cookies"
Leave a Comment