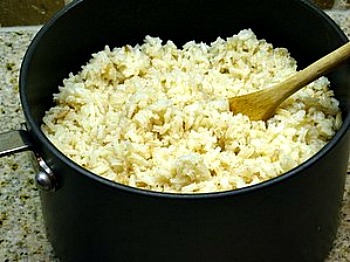 Yield: 8 servings
Prep Time: 15 min
Cook Time: 20 min
Brown Butter Rice
Cut this recipe in half for only 4 servings.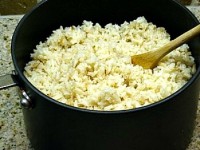 Ingredients:
4 cups low-sodium chicken broth
2 cups long-grain white rice
1/2 cup salted butter
salt to taste
Directions:
1. Place the chicken broth and rice in a large pot. Bring to a boil, then reduce heat to low, cover and simmer for 20 minutes.
2. During the last 5 minutes of the rice, melt the butter in a small skillet over medium-high heat until it browns and the foam starts to clear. It will be a dark brown, similar to chocolate- and there will be lots of brown bits floating around (don't let it burn!)
3. After the rice has simmered for the 20 minutes, remove it from heat. Pour the brown butter over it, being careful not to splatter. Do not stir into the rice. Replace the lid, and let stand for 10 minutes (off the heat). Stir and season with salt to taste before serving.
Tips:
*If you are preparing this recipe as gluten-free, just be sure to use brands of chicken broth and rice that are known to be GF.
Leave a Comment