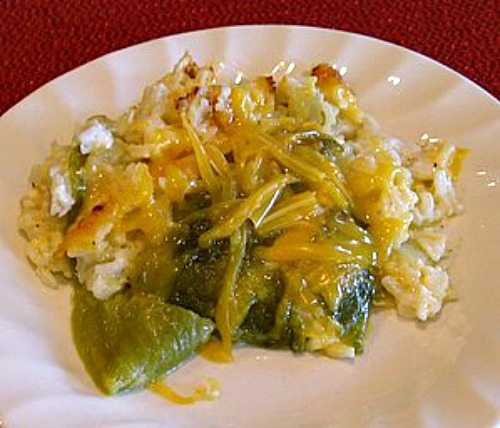 Yield: 8 servings
Prep Time: 25 min
Cook Time: 35 min
Green Chile Rice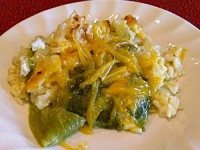 Ingredients:
Three 4-ounce cans whole green chiles, drained
1 cup chopped onion
1/4 cup (1 stick) butter
4 cups hot cooked white rice
2 cups sour cream
1 cup small curd cottage cheese
1 large bay leaf, crumbled
1/2 teaspoon salt
1/8 teaspoon pepper
2 cups shredded sharp Cheddar cheese
chopped fresh parsley
Directions:
1. Preheat oven to 375 degrees F. Grease 12x8-inch baking dish.
2. Slice the chiles lengthwise into halves, discarding the seeds. Set aside.
3. Sauté the onion in butter in a large skillet until golden brown. Remove from heat. Stir in rice, sour cream, cottage cheese, bay leaf, salt and pepper.
4. Layer rice mixture, chiles and cheddar cheese 1/2 at a time in prepared dish. Bake for 25 minutes, or until bubbly.
5. Sprinkle with parsley and serve warm.
Tips:
*If you are preparing this recipe as GLUTEN-FREE, just be sure to use a brand of chiles that is known to be GF.
Leave a Comment