These Mustard Roasted Potatoes are a perfect potato side dish to beef roasts and chicken.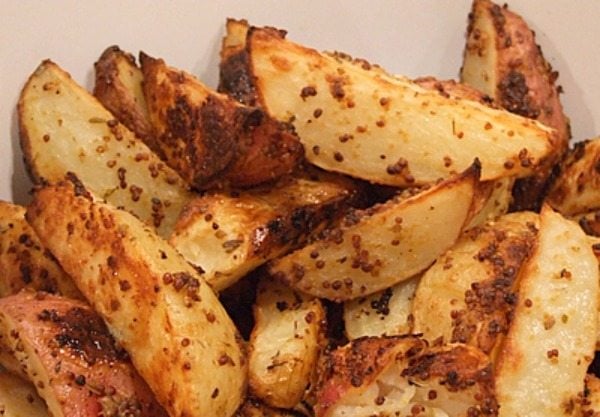 Yield: 10 servings
Prep Time: 25 min
Cook Time: 45 min
Mustard Roasted Potatoes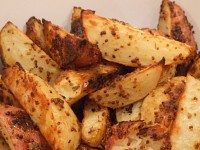 Ingredients:
1/2 cup whole grain Dijon mustard
2 tablespoons extra-virgin olive oil
2 tablespoons (1/4 stick) butter, melted
2 tablespoons freshly squeezed lemon juice
3 cloves garlic, minced
1 tablespoon dried oregano
1 teaspoon finely grated lemon zest
1 teaspoon kosher salt
3 pounds 1 to 1 1/2-inch diameter mixed unpeeled red-skinned and white-skinned potatoes, cut into 3/4-inch-wide wedges
Directions:
1. Position 1 rack in top third of oven and 1 rack in bottom third of oven and preheat to 425°F. Spray 2 large rimmed baking sheets with nonstick spray.
2. Whisk mustard, olive oil, butter, lemon juice, garlic, oregano, lemon peel, and salt in large bowl to blend. Add potatoes; sprinkle generously with freshly ground black pepper and toss to coat. Divide potatoes between prepared baking sheets, leaving any excess mustard mixture behind in bowl. Spread potatoes in single layer.
3. Roast potatoes 20 minutes. Reverse baking sheets and roast until potatoes are crusty outside and tender inside, turning occasionally, about 25 minutes longer.
Tips:
*Do Ahead: Can be made 2 hours ahead. Let stand on baking sheets at room temperature. Rewarm potatoes in 425 degree oven for 10 minutes. Transfer potatoes to serving bowl.
*If you are preparing this recipe as GLUTEN-FREE, just be sure to use a brand of Dijon that is known to be GF.
Leave a Comment