Tomato, Caper, Olive and Blue Cheese Salad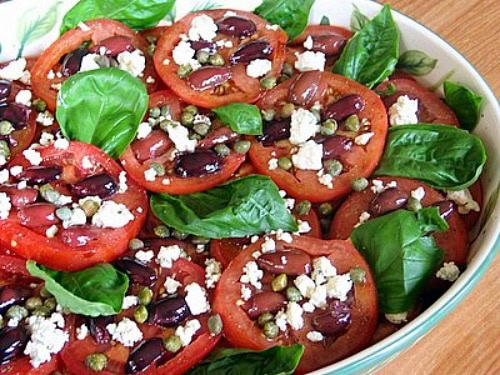 Yield: 6 servings
Prep Time: 15 min
Tomato, Caper, Olive & Blue Cheese Salad
This is wonderful with some delicious tomatoes. I recommend getting really fresh ones at the Farmer's Market.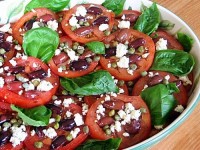 Ingredients:
6 large vine-ripened tomatoes, sliced
3 Tablespoons balsamic vinegar
5 Tablespoons extra virgin olive oil
salt & pepper
1/3 cup pitted Kalamata olives
1/3 cup blue cheese, crumbled
2 Tablespoons capers
fresh basil leaves
Directions:
Arrange tomatoes on large platter. Drizzle with vinegar and then oil. Sprinkle lightly with salt and generously with pepper. Sprinkle with olives, blue cheese and capers. Garnish with basil leaves.
Nutritional Information per serving:
Serving size: 1/6th of the salad
Calories per serving: 170
Fat per serving: 15g
Saturated Fat per serving: 3g
Sugar per serving: 4.75g
Fiber per serving: 2.25g
Protein per serving: 3g
Cholesterol per serving: 4.75mg
Carbohydrates per serving: 8.25g
WW POINTS per serving:
Points Plus Program: 5 Old Points Program: 5
Leave a Comment