Pioneer Woman's Linguine with Clam Sauce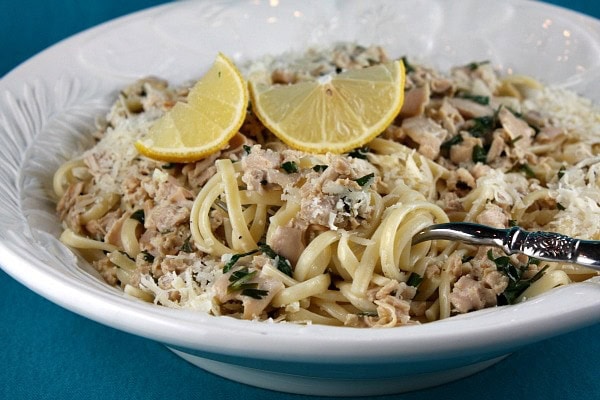 Yield: 4 servings
Prep Time: 30 min
Cook Time: 15 min
Pioneer Woman's Linguine with Clam Sauce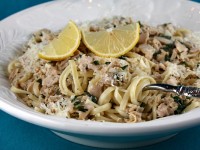 Ingredients:
1 pound linguine, cooked according to package directions
1 tablespoon olive oil
2 tablespoons salted butter
3 garlic cloves, minced
Three 5-ounce cans chopped clams, drained (juice reserved)
3/4 cup white wine
juice of 1/2 lemon, plus lemon slices for garnish
2 tablespoons chopped flat-leaf parsley
3/4 cup whipping cream
salt and freshly ground black pepper, to taste
grated Parmesan cheese
Directions:
1. In a large skillet over medium-high heat, add the olive oil and 1 tablespoon butter. Add the garlic and clams; stir together. Cook for 3 minutes. Pour in the white wine, scraping the bottom of the pan with the spoon. Cook for 3 to 4 minutes, until the sauce is reduced and less watery. Add in 1 more Tablespoon of butter and stir to melt. Reduce heat and add lemon juice. Add parsley and cream. Add salt and pepper. Stir well and taste for seasonings, adding a splash of clam juice if the sauce needs thinning.
2. Cook over low heat for 3 additional minutes, or until heated through.
3. Place freshly cooked, hot pasta in a large bowl. Pour sauce from the skillet onto the hot linguine. Toss to combine.
4. Serve in individual bowls; sprinkle with Parmesan and serve with lemon wedge for garnish.
Tips:
*PW recommends using heavy whipping cream for the sauce. I lightened it up (very slightly) by using regular old whipping cream.
2 Responses to "Pioneer Woman's Linguine with Clam Sauce"
Leave a Comment