Cinnamon- Currant Oatmeal Bread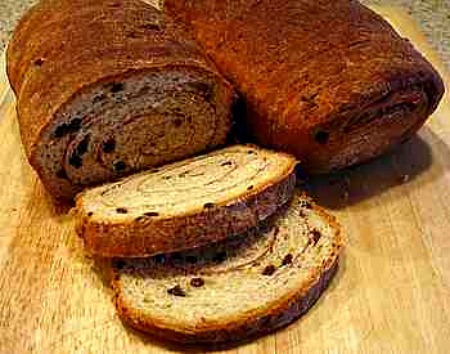 Yield: 2 loaves
Prep Time: 30 min + rising time
Cook Time: 45 min
Cinnamon- Currant Oatmeal Bread
Great used for French toast too!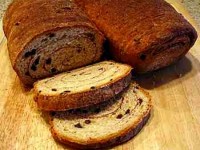 Ingredients:
2 packages active dry yeast
1/3 cup warm water (around 115 degrees F)
1 1/2 cups warmed milk (around 115 degrees F)
1/2 cup packed light brown sugar
2 teaspoons salt
1/3 cup shortening or butter, at room temperature
5 to 6 cups all-purpose flour, sifted, divided
2 large eggs, beaten
1 cup dried currants
1 1/2 cups uncooked quick or old-fashioned oatmeal
1/3 cup granulated white sugar
1 tablespoon ground cinnamon
1 tablespoon salted butter, melted
Directions:
1. In a small bowl, combine the yeast with the warm water and let it sit until the yeast becomes active (it should appear foamy). In a large bowl, pour the milk over the brown sugar, salt and shortening. Cool to lukewarm. Beat in 3 cups of the flour and all of the eggs. Stir in the yeast, currants and oatmeal. Add just enough more flour to make a stiff dough. Turn out onto a lightly floured board and knead until smooth and silky, about 10 minutes. Place in a well-greased bowl and let rise until double in bulk. Divide dough into two parts. Let rest 10 minutes.
3. Combine 1/3 cup sugar and cinnamon. Roll each half of dough into an 8x15-inch rectangle and spread each with half the sugar-cinnamon mixture. Roll each to form a loaf and place in a greased 5x9-inch loaf pan, seam side down.
4. Brush loaves lightly with melted butter, cover and let rise in a warm place until doubled, about 45 minutes.
5. Preheat oven to 400 degrees F. Bake 10 minutes. Reduce oven temperature to 375 degrees and continue baking for 35-45 more minutes. Cool on racks.
Leave a Comment