This recipe has been featured in a post on The Recipe Girl blog: Fresh Blueberry- Maple Muffins.
Yield: 12 muffins
Prep Time: 15 min
Cook Time: 25 min
Blueberry- Maple Muffins
These muffins remind me of the blueberry muffins they serve at Mimi's Cafe.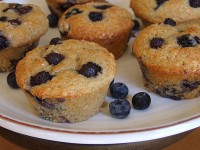 Ingredients:
2 cups all-purpose flour
1 Tablespoon baking powder
1/2 teaspoon salt
1 cup plain yogurt, lowfat
3/4 cup granulated white sugar
6 Tablespoons unsalted butter, melted
2 large eggs, at room temperature
1/2 teaspoon maple extract
2 Tablespoons all-purpose flour
2 Tablespoons granulated white sugar
1 cup fresh blueberries, rinsed
coarse sugar for topping, optional
Directions:
1. Spray 12 cup muffin pan with nonstick spray. Preheat oven to 375°F.
2. In a large bowl, whisk together flour, baking powder, and salt. In a separate bowl, whisk together yogurt, sugar, butter, eggs and maple flavoring. In a third bowl, toss rinsed blueberries with 2 Tablespoons flour and 2 Tablespoons sugar, until coated.
3. Use a rubber spatula to fold wet ingredients into dry, just until flour is barely visible. Don't over-mix (the batter will be lumpy). Gently fold in the coated fruit.
4. Fill muffin cups using 1/2 cup batter in each. If desired, sprinkle each with coarse sugar.
5. Bake 20 to 25 minutes, or until toothpick inserted in center comes out clean.
6. Let sit for 5 minutes; remove to rack to cool completely.
2 Responses to "Blueberry- Maple Muffins"
Leave a Comment