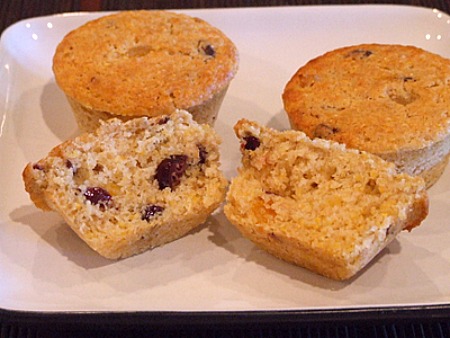 Yield: 12 muffins
Prep Time: 10 min
Cook Time: 20 min
Great Grains Muffins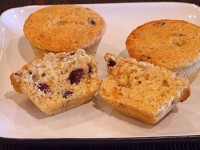 Ingredients:
1 cup all-purpose flour
1/3 cup whole wheat flour
1/3 cup yellow cornmeal
1/3 cup old- fashioned oats
1/4 cup granulated white sugar
2 teaspoons baking powder
1/4 teaspoon baking soda
1/4 teaspoon salt
1 cup buttermilk
1/3 cup pure maple syrup
2 large eggs
1/2 cup (1 stick) unsalted butter, melted and cooled
3/4 cup chopped dried fruit (apricots, cranberries, etc.)
Directions:
1. Preheat oven to 400°F. Spray a 12-cup muffin pan with nonstick spray or line with paper muffin cups. Place the muffin pan on a baking sheet.
2. In a large bowl, whisk together the flours, cornmeal, oats, sugar, baking powder, baking soda and salt. In another bowl, whisk together buttermilk, maple syrup, eggs and melted butter. Pour liquid ingredients over dry ingredients and stir until incorporated. The batter will be lumpy (that's okay). Stir in the fruit. Divide the batter evenly among the muffin cups.
3. Bake 18 to 20 minutes, or until the tops are golden and a thin knife inserted into the center of the muffins comes out clean. Transfer the pan to a rack and cool for 5 minutes, then carefully lift each muffin out of its mold and onto the rack to cool.
Source: RecipeGirl.com (via Baking, From My Home to Yours)
Leave a Comment