Sausage and Scrambled Egg Pizza
This recipe has been featured in a post on The Recipe Girl blog: Daring Baker's Challenge- Pizza 3 Ways
Yield: 8 servings
Prep Time: 35 min
Cook Time: 30 min
Sausage and Scrambled Egg Pizza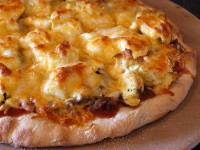 Ingredients:
One ball fresh pizza dough (I used Basic Pizza Dough for the pic above)
cornmeal to sprinkle on pizza stone
1 pound hot ground pork sausage
6 large eggs, lightly beaten
1/2 teaspoon black pepper
One 16-ounce jar salsa
One 8-ounce package shredded Mexican four-cheese blend
sour cream (optional)
Directions:
1. Preheat oven to 425 degrees F. Place pizza stone on bottom rack of oven and heat for 30 minutes.
2. Brown ground sausage in large nonstick skillet, stirring until it crumbles and is no longer pink. Drain and pat dry with paper towels; set aside. Wipe skillet clean. Whisk together eggs and pepper; set aside.
3. Roll out pizza dough. Sprinkle cornmeal onto pizza stone and slide pizza dough onto the stone. Bake for about 4 minutes.
4. While crust is baking, cook eggs in lightly greased skillet over medium heat, without stirring, until eggs begin to set on bottom. Draw a spatula across the bottom of the skillet to form large curds. Continue cooking until eggs are thickened but still moist (do not stir constantly). Remove skillet from heat.
5. After crust has baked for about 4 minutes (just until lightly browned and bubbling). Open the oven and carefully spoon and spread salsa evenly over partially baked crust; top evenly with sausage, scrambled eggs, and cheese.
6. Bake for 8 to 12 more minutes- until crust is deep golden brown. Serve with sour cream, if desired.
Tips:
*To lighten this recipe, try using reduced-fat sausage, egg substitute, reduced-fat shredded cheese, and low fat sour cream.
*If you do not have a pizza stone, use a pizza pan or cookie sheet instead. Just be sure to sprinkle the pan with cornmeal before placing the dough, and don't preheat the pan in the oven as you would the stone.
One Response to "Sausage and Scrambled Egg Pizza"
Leave a Comment