Sugar-Crusted Raspberry Muffins
This recipe has been featured in a post on The Recipe Girl blog: Summer Muffin Recipes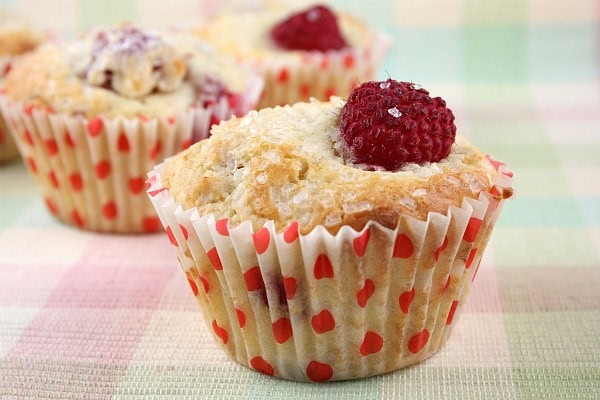 Yield: 12 muffins
Prep Time: 15 min
Cook Time: 18 min
Sugar-Crusted Raspberry Muffins
I brought these to a little brunch I attended, and they were quite the hit! Fresh raspberries are wonderful, especially if you pair them with chunky, white sugar sprinkled on top. Delicious breakfast treats!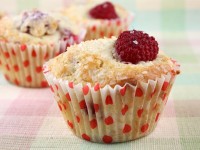 Ingredients:
1 3/4 cups all-purpose flour, divided
1/2 cup granulated white sugar
2 teaspoons baking powder
1/4 teaspoon salt
1/2 cup (1 stick) unsalted butter, melted
3/4 cup milk (can use any kind or half & half too)
1 large egg
1/4 teaspoon vanilla extract
1 1/2 cups fresh raspberries tossed with 1/4 cup of flour
1/4 cup of white sugar for topping (or use chunky, sparkling white sugar crystals, if you have them!)
a few more raspberries, gently sliced in half
Directions:
1. Preheat oven to 400 degrees F. Spray 12-cup muffin tin with nonstick spray, or line with paper cupcake liners.
2. In a medium bowl, whisk together flour, sugar, baking powder and salt.
3. In a separate bowl, whisk together butter, milk, egg and vanilla. Stir into dry mixture and mix just until combined (it'll be lumpy). Gently fold the floured raspberries into the batter.
4. Divide the batter between the muffin cups (I like to use an ice cream scoop- it's easy!). Sprinkle the batter with the white (or sparkling, chunky) sugar. Top the muffins with pieces of the sliced raspberries, to add some pretty on top.
5. Bake 18 to 22 minutes, or until a toothpick inserted in the center of a muffin comes out clean.
4 Responses to "Sugar-Crusted Raspberry Muffins"
Leave a Comment