Light and Fluffy Buckwheat Pancakes
This recipe has been featured in a post on The Recipe Girl blog: Buckwheat Banana Pancakes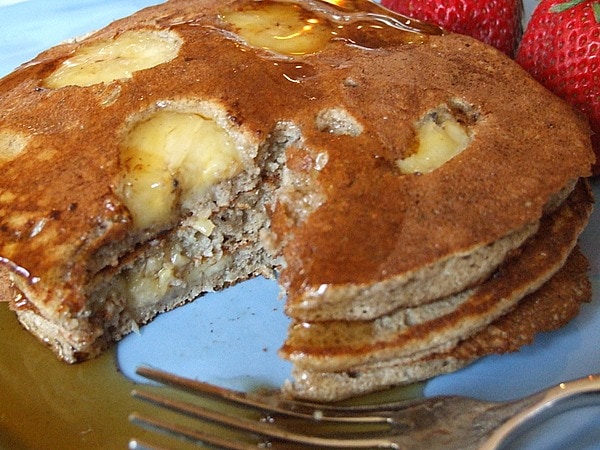 Yield: 4 servings
Prep Time: 15 min
Cook Time: 15 min
Light and Fluffy Buckwheat Pancakes
These are fantastic! Try adding blueberries and toasted pecans.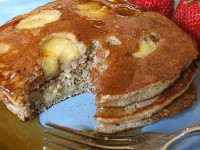 Ingredients:
1 1/4 cups milk
4 large eggs, separated
1 cup buckwheat flour
dash of salt
3 Tablespoons granulated white sugar
1 1/2 teaspoons baking powder
butter or canola oil as needed for greasing pan
Directions:
1. Beat together milk and egg yolks.
2. In a separate bowl, whisk together dry ingredients.
3. In yet another bowl, beat egg whites with a whisk or electric mixer until stiff but not dry.
4. Combine dry ingredients and milk-yolk mixture, stirring to blend. Gently fold in the beaten egg whites; they should remain somewhat distinct in the batter.
5. Add about 1 teaspoon butter or oil to a preheated griddle or skillet. Add batter by heaping Tablespoon, making sure to include some of the egg whites in each spoonful. Cook until lightly browned on the bottom, 3 to 5 minutes, then turn and cook until second side is brown. Serve, or hold in a 200° oven for up to 15 minutes.
Tips:
*Add sliced bananas or berries to pancakes while they're cooking in the pan.
Source: RecipeGirl.com (Adapted from How to Cook Everything)
One Response to "Light and Fluffy Buckwheat Pancakes"
Leave a Comment