These are incredible handheld dessert bars: Cheesecake Squares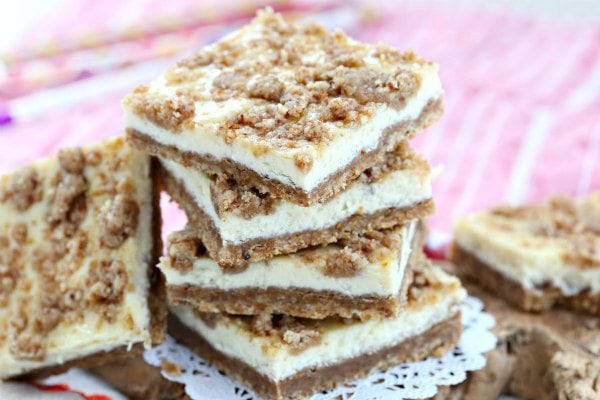 A delicious and buttery shortbread crust, a rich and creamy cheesecake layer and more of those buttery crumbles on top.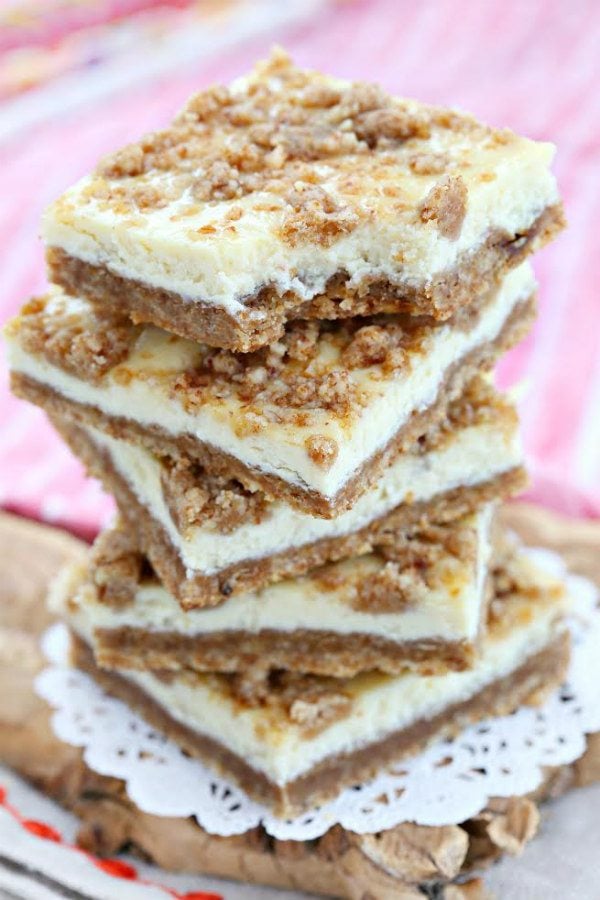 Yield: 16 to 20 small bars
Prep Time: 20 minutes + chill time
Cook Time: 35 minutes
Cheesecake Squares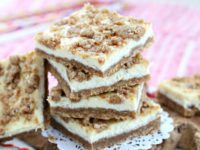 Ingredients:
CRUST:
1/3 cup salted butter, softened
1/3 cup packed brown sugar
1 cup all-purpose flour
1/2 cup finely ground walnuts
FILLING:
1/4 cup granulated white sugar
1 large egg
2 tablespoons milk
1 tablespoon freshly squeezed lemon juice
1/2 teaspoon vanilla extract
One 8-ounce package cream cheese, at room temperature
Directions:
Preheat oven to 350 degrees F.  Spray an 8x8-inch or 9x9-inch pan with nonstick spray.
To prepare crust: Use an electric mixer to cream the butter and sugar together in a medium bowl. Add the flour and walnuts. Blend to make a mixture of coarse crumbs. Reserve 1/2 cup for topping. Press the mixture into the prepared pan. Bake 10 to 12 minutes, or until browned.
To prepare filling:  Place all of the filling ingredients into large bowl. Blend with an electric mixer until well combined. Pour the filling mixture over the hot crust. Sprinkle with the reserved crumbs. Bake for 25 minutes.
Remove from oven and let cool completely.  Refrigerate until firm, then cut to serve.
Tips:
A food processor is perfect for preparing finely ground walnuts. Just don't over- process them or they'll turn into walnut butter!
SOURCE: RecipeGirl.com
2 Responses to "Cheesecake Squares"
Leave a Comment