Here's a delicious chocolate cookie recipe with peanut butter chips:  Chocolate Wows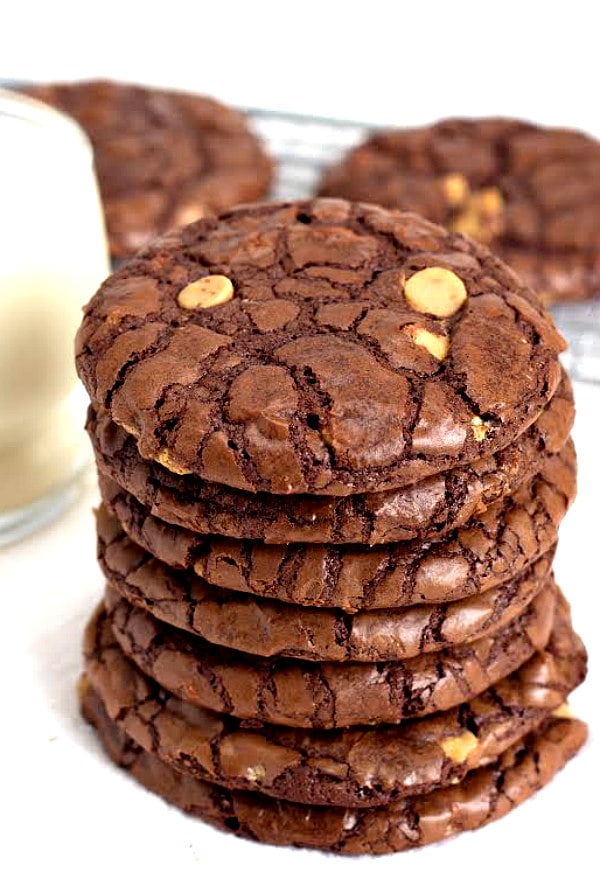 Yield: 2 dozen cookies (or 15 larger)
Prep Time: 25 minutes
Cook Time: 12 to 14 minutes
Chocolate Wows
Very chocolate-y and moist. A keeper cookie recipe for sure!!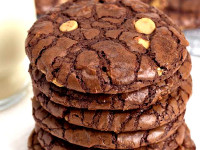 Ingredients:
Six 1-ounce squares semi-sweet chocolate, chopped
1/2 cup (1 stick) salted butter
2 large eggs
3/4 cup granulated white sugar
1/3 cup all-purpose flour
1/4 cup unsweetened cocoa powder
1 teaspoon baking powder
1 1/2 teaspoons vanilla extract
1/4 teaspoon salt
One 12-ounce package peanut butter chips (reserve a few extra chips to press into the tops of the cookie dough for a prettier appearance)
Directions:
Preheat the oven to 325 degrees F. Spray cookie sheets with nonstick spray, or line with parchment paper.
In a 2-quart saucepan over low heat, melt the chocolate squares and butter, stirring occasionally. Remove from heat and set aside to cool.
In a large bowl mixing at medium speed, beat the eggs and sugar until light and lemon-colored (about 2 minutes), frequently scraping the bowl with a rubber spatula. Reduce the speed to low; add the chocolate mixture, flour, cocoa, baking powder, vanilla and salt; beat just until blended. Increase speed to medium; beat 2 minutes. Stir in the peanut butter chips.
Drop by teaspoonfuls onto cooking sheet. Bake 12 to 15 minutes, or until cookies are set.  Let cool on baking sheet for about 10 minutes, or until they are firm enough to transfer to a wire rack to cool completely.
SOURCE: RecipeGirl.com
Leave a Comment