Perfect, Cinnamon Shortbread drizzled with caramel: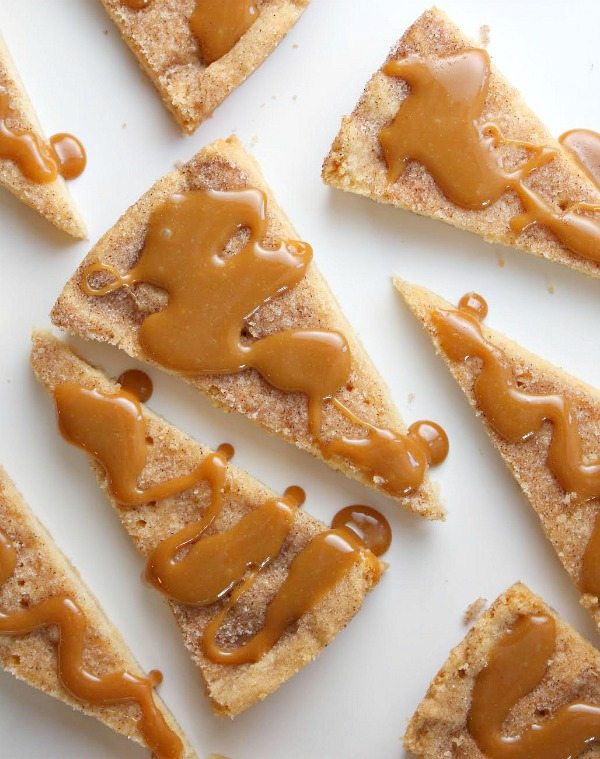 Yield: 12 wedges (one pan) or 24 wedges (2 pans)
Prep Time: 15 min
Cook Time: 25 min
Cinnamon Shortbread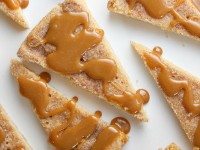 Ingredients:
2 cups all-purpose flour
3 1/2 tablespoons ground Vietnamese cinnamon (available through Penzey's or King Arthur flour)
1/2 teaspoon salt
1 cup (2 sticks) unsalted butter, softened
1/2 cup granulated white sugar
1/4 cup packed light brown sugar
1 teaspoon vanilla extract
caramel topping, for drizzling (optional)
Directions:
1. Preheat oven to 350° F. Grease two round 8 or 9-inch cake pans (use just one pan if you want extra-thick shortbread).
2. In a small bowl, whisk flour, cinnamon, and salt together; set aside. In a large bowl, with an electric mixer on low speed, cream butter, sugar and brown sugar together. Add vanilla extract. Gradually blend the flour mixture into the butter mixture. Press the dough evenly into the bottom of the pans.
3. Bake in the center of the oven for 20 to 25 minutes (2 pans) or 45 to 50 minutes (one pan).
4. The dough is brown, and is difficult to tell when it's done. The edges should be golden brown and the center should barely spring back when pressed. When you remove it from the oven, carefully score the shortbread into wedges. Cool completely, remove from the pan, and cut completely along the score lines.
Serve drizzled with caramel, if desired.
Tips:
*This recipes stores and ships well.
SOURCE: RecipeGirl.com (recipe given to me)
More shortbread recipes you might enjoy:
3-Ingredient Shortbread Cookies by Dine and Dish
Mexican Chocolate Shortbread Cookies by RecipeGirl
Brown Sugar Shortbread by Pinch My Salt
Pumpkin Shortbread Cookies by RecipeGirl
Leave a Comment