Low Fat Double Chocolate Chews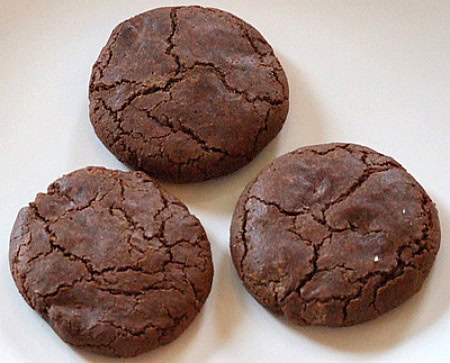 LOW FAT DOUBLE CHOCOLATE CHEWS
www.RecipeGirl.com
1 cup flour
½ cup unsweetened cocoa powder
¼ tsp salt
3 Tbs unsalted butter
2½ ounces nonfat cream cheese
1/3 cup granulated sugar
½ cup firmly packed dark brown sugar
1 tsp vanilla extract
1½ ounces mini- chocolate chips (or regular chips, chopped)
1. Preheat oven to 350°F. Spray 2 cookie sheets with nonstick spray, or line with parchment paper.
2. On a sheet of waxed paper, sift together flour, cocoa and salt.
3. In a large bowl, with an electric mixer, beat the butter, cream cheese, granulated sugar, and brown sugar until creamy. Beat in the vanilla. Beat the flour mixture into the butter mixture. With your fingers, knead in the chocolate chips.
4. Divide the dough into quarters. Divide each quarter into 6 equal pieces. Roll each piece of dough into a ball and place on the prepared cookie sheets. Repeat to form 24 balls. Using the bottom of a glass, press the balls into 2-inch rounds.
5. Bake cookies in two batches, for 8 minutes, or until slightly puffed and very soft to the touch. Let cool on the pans for 1 minute, then transfer to wire racks to cool before serving.
Servings: 24
Yield: 2 dozen
Recipe Source: Great Taste- Low Fat: Time Life Books
Cooking Tips
*To prevent glass from sticking when you flatten the balls of dough, coat the bottom of the glass with granulated sugar. Dip glass in water, then into a saucer of sugar. After you've flattened the first cookie, the glass will become sticky and the sugar will adhere to it.
Nutrition Facts
Amount Per Serving (1 cookie)
Calories 76
Calories From Fat (25%) 19
Total Fat 2 g.
Saturated Fat 1.41g
Cholesterol 4.05mg
Sodium 42.99mg
Potassium 54.30mg
Carbohydrates 13.50g
Dietary Fiber 0.84g
Sugar 7.27g
Net Carbohydrates 12.66g
Protein 1.40g
WW Points 1.5 per cookie
6 Responses to "Low Fat Double Chocolate Chews"
Leave a Comment