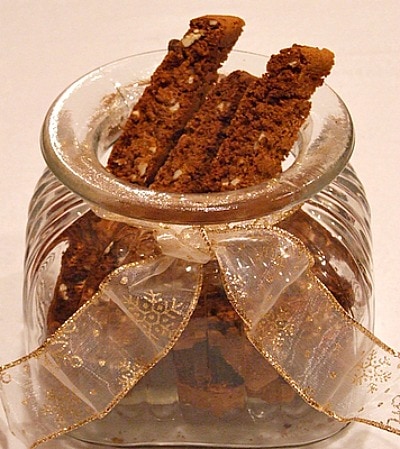 Yield: 24 biscotti
Prep Time: 35 min
Cook Time: 45 min
Gingerbread Biscotti
Wonderful aroma while baking, and terrific to dunk in coffee! We love these!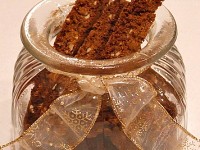 Ingredients:
2 1/4 cups all-purpose flour
1 1/4 cups packed dark brown sugar
2 teaspoons ground ginger
1 1/4 teaspoons baking powder
1 teaspoon ground cinnamon
1/2 teaspoon salt
1/4 teaspoon ground nutmeg
1/4 teaspoon baking soda
1 cup (4-ounces) pecans, coarsely chopped
1/2 cup (4-ounces) lightly packed dried apricots, coarsely chopped
1/4 cup molasses
2 large eggs
2 teaspoons finely grated orange zest (from about 1 medium naval orange)
Directions:
1. Position a rack in the middle of the oven, and preheat oven to 350°F. Line a large cookie sheet with parchment.
2. In a stand mixer fitted with the paddle attachment, combine flour, brown sugar, ginger, baking powder, cinnamon, salt, nutmeg and baking soda on medium-low speed until well blended. On low speed, briefly mix in the pecans and apricots. In a measuring cup, lightly whisk the molasses, eggs and orange zest. With the mixer on low, slowly pour in the egg mixture. Continue mixing until dough is well blended and comes together in large, moist clumps, 1 to 2 minutes.
3. Dump the dough onto an unfloured work surface. Divide into two equal piles (about 1 pound each). Shape each pile into a log that's 10-inches long and about 1 1/2-inches in diameter, lightly flouring your hands as needed (the dough is a bit sticky).
4. Position the logs on the lined cookie sheet about 4 inches apart. Bake until the tops are cracked and spring back slightly when gently pressed, 30 to 35 minutes. Transfer the sheet to a rack and let cool until the logs are cool enough to handle, about 10 minutes.
5. Carefully peel the biscotti logs from the parchment and transfer to a cutting board. Using a serrated knife, saw each log into diagonal slices 3/4-inch wide. Return the slices to the cookie sheet (no need for fresh parchment) and arrange them cut-side down. It's all right if they touch because they won't spread.
6. Bake until the biscotti are dried to your taste, about 10 minutes (for slightly moist and chewy) to 20 minutes (for super dry and crunchy). Transfer the cookie sheet to a rack and let the biscotti cool completely. The biscotti will still give slightly when pressed, but will harden as they cool. When cool, store in airtight containers.
Tips:
*Biscotti are very forgiving, and you can bake these to your taste: chewy, crunchy, or somewhere in between.
*These freeze well in an airtight container or freezer ziploc bag.
Source: (Adapted slightly from Fine Cooking)
Leave a Comment