Milk Chocolate Gingersnaps
Easy-to-Make recipe for Milk Chocolate Gingersnaps. Great for a holiday cookie platter!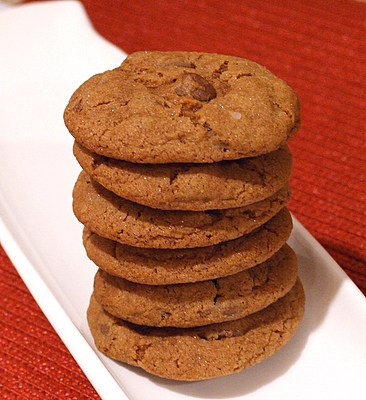 Yield: About 30 cookies
Prep Time: 25min
Cook Time: 14 min
Milk Chocolate Gingersnaps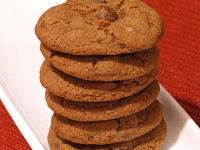 Ingredients:
2 1/4 cups all-purpose flour
2 teaspoons baking soda
1 1/2 teaspoons ground ginger
1 teaspoon ground cinnamon
1/4 teaspoon salt
3/4 cup (1 1/2 sticks) unsalted butter, at room temperature
1 cup packed light brown sugar
1 large egg
1/4 cup molasses
1½ cups (about 9 ounces) milk chocolate chips
1/4 cup granulated white sugar
Directions:
1. Preheat oven to 350°F. Line 2 baking sheets with parchment paper or silpat mats.
2. Sift flour, baking soda, ginger, cinnamon and salt into a medium bowl and set aside. In a large bowl and using an electric mixer on medium speed, beat butter and brown sugar until smooth and blended, about 1 minute. Add egg and molasses and mix until blended. Reduce mixer speed to low and add flour mixture, mixing just to incorporate. Stir in the chocolate chips.
3. Spread the sugar on a large piece of wax or parchment paper. Roll a rounded Tablespoon of dough between the palms of your hands into a 1 1/4-inch ball. Roll the ball in sugar. Place cookies on prepared baking sheets, spaced 2 inches apart. Bake cookies one sheet at a time until they feel firm on top but soft in the center and have several cracks, about 14 minutes.
4. Cool cookies on baking sheets for 5 minutes. Use a wide metal spatula to transfer cookies to a wire rack to cool completely.
Tips:
*Cookies can be stored in a tightly covered container at room temperature for up to 4 days.
*Finished cookies may also be frozen until ready to place on cookie platters.
Leave a Comment