Peanut Butter- Chocolate Chunk Cookies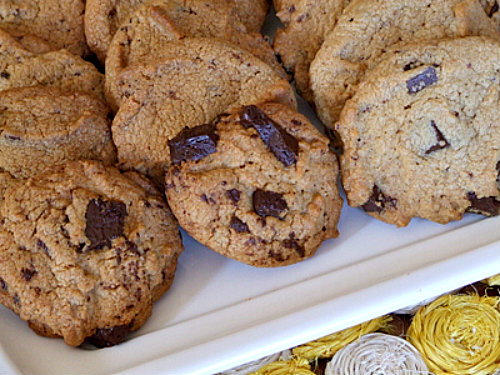 Yield: 3 to 4 dozen cookies
Prep Time: 20 min
Cook Time: 17 min
Peanut Butter- Chocolate Chunk Cookies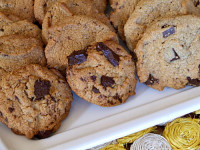 Ingredients:
1 cup (2 sticks) unsalted butter, at room temperature
1 1/2 cups packed light brown sugar
3/4 cup granulated white sugar
2 extra-large eggs
2 teaspoons vanilla extract
1 cup smooth peanut butter
2 1/2 cups all-purpose flour
1 teaspoon baking powder
1 teaspoon kosher salt
16-ounces semi-sweet chocolate chunks
Directions:
1. Preheat oven to 350°F.
2. Use an electric mixer to combine the butter and sugars until light and fluffy. Mix in eggs, one at a time. Add the vanilla and peanut butter, and mix. Sift together the flour, baking powder, and salt and add to the batter, mixing only until combined. Fold in the chocolate chunks.
3. Drop the dough on a baking sheet lined with parchment paper, using either a 1 3/4-inch ice cream scoop or a rounded tablespoon. Dampen your hands, flatten dough lightly, then press the tines of a wet fork in both directions. Bake for exactly 17 minutes (the cookies will seem underdone.) Do not overbake. Remove from the oven and let cool slightly on the pan, then transfer to a wire rack and let cool completely.
One Response to "Peanut Butter- Chocolate Chunk Cookies"
Leave a Comment