Pumpkin- White Chocolate Chunk Cookies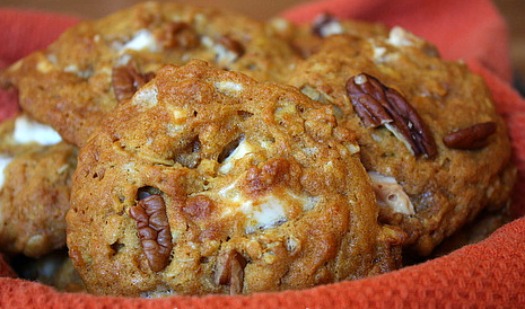 Yield: 3 to 4 dozen cookies
Prep Time: 25 min
Cook Time: 13 min
Pumpkin- White Chocolate Chunk Cookies
This is a delicious cookie recipe. Two thumbs up from hubby and son. The pumpkin flavor is disguised a bit by the butterscotch. The white chocolate chunks are a nice touch. I usually leave out the nuts.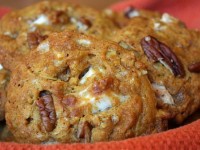 Ingredients:
2 cups all-purpose flour
1 teaspoon baking soda
1 cup butterscotch chips
3/4 cup (1 1/2 sticks) unsalted butter, softened
2/3 cup granulated white sugar
2/3 cup packed light brown sugar
1 large egg
2/3 cup canned pumpkin puree
1 1/4 cups old-fashioned rolled oats
1 cup chopped white chocolate (or use chips)
1 cup chopped walnuts or pecans
Directions:
1. Preheat oven to 350°F. Line two baking sheets with parchment.
2. Put flour and baking soda in bowl of a food processor fitted with a metal blade. Pulse to distribute the baking soda evenly. Add the butterscotch chips and process until the chips are ground, with some slightly larger bits remaining. Turn the flour and butterscotch chips out into a large bowl.
3. In a separate large bowl, cream the butter, granulated sugar and brown sugar together for 2 - 3 minutes, scraping down the bowl from time to time, until fluffy. Add the egg and pumpkin puree and stir to combine.
4. Pour the wet mixture into the flour mixture and stir to combine. Add oats, white chocolate chunks and nuts and stir until ingredients are combined and no flour is visible. Cover the bowl and refrigerate for at least 10 minutes or overnight.
5. Use a 1/4 cup measure or ice cream scoop to drop the cookie dough onto the prepared sheets, leaving 2 inches between cookies.
6. Bake cookies on center rack for 13 to 15 minutes, rotating the cookie sheets halfway through for even baking, until they're light golden brown and no longer doughy looking. Cool cookies on cookie sheets for 10 to 15 minutes before transferring them to a wire rack or clean surface to cool completely.
Source: RecipeGirl.com (Adapted from Fresh Every Day )
Leave a Comment