Quintuple Chocolate Brownies
A qualified !-*-*INSANE*-*-! brownie recipe:  Quintuple Chocolate Brownies… from Dorie Greenspan's cookbook: Baking From My Home to Yours.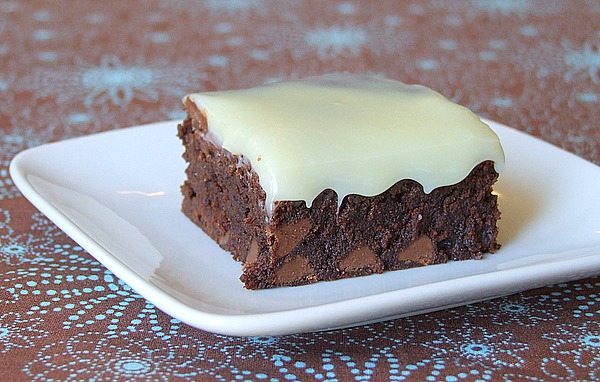 These brownies (which are more on the fudgy side than cakey) incorporate FOUR kinds of chocolate: unsweetened, bittersweet (or semi), milk and white. The milk is left as "chunks" within the finished product, and the white chocolate acts as an icing. I'm not even a big fan of white chocolate, but somehow turning it into a ganache really works, and I loved it! Dorie suggests adding nuts- no nuts for us though. We're not really a *nut* family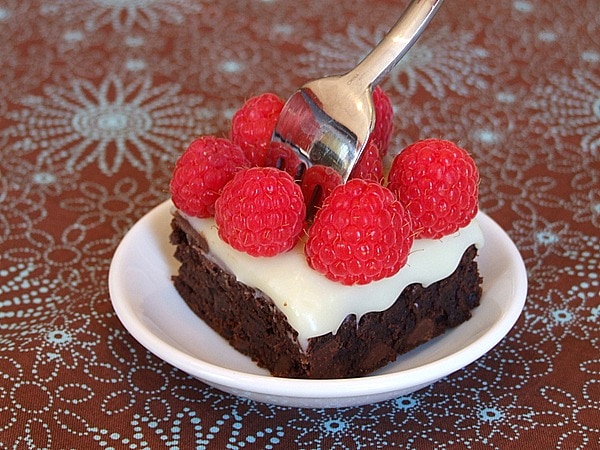 Raspberries are completely optional, but they made for a great addition (and a pretty picture too!)
Yield: 16 brownies
Prep Time: 30 min
Cook Time: 45 min
Quintuple Chocolate Brownies
These qualify as INSANE brownies!! Very fudgy and delicious. I'm not even a big fan of white chocolate, but the white choc. ganache makes a great topping.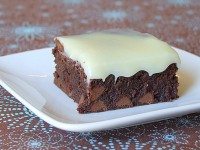 Ingredients:
FOR THE BROWNIES:
1/2 cup all-purpose flour
1/4 cup unsweetened cocoa powder
1/2 teaspoon salt
1 stick (8 Tablespoons) unsalted butter, cut into 8 pieces
3 ounces unsweetened chocolate, coarsely chopped
3 ounces bittersweet or semi-sweet chocolate chocolate, coarsely chopped
2 Tablespoons prepared strong coffee
1 cup granulated white sugar
3 large eggs
1 teaspoon vanilla extract
6 ounces premium- quality milk chocolate, chopped into chips, or 1 cup store-bought milk choc. chips
FOR THE GLAZE:
6 ounces premium- quality white chocolate, finely chopped, or 1 cup store- bought white chocolate chips
1/3 cup heavy whipping cream
Directions:
1. Preheat oven to 325°F. Line a 9-inch baking pan with foil, butter the foil and place the pan on a baking sheet.
2. Sift together the flour, cocoa and salt.
3. Prepare Brownies: Set a heatproof bowl over a saucepan of simmering water and add butter, the two chocolates and the coffee. Keeping the pan over low heat, warm just until the butter and chocolates are melted- you don't want the ingredients to get so hot they separate, so keep an eye on the bowl. Stir gently, and when the mixture is smooth, set it aside for 5 minutes.
4. Using a whisk or a rubber spatula, beat the sugar into the chocolate mixture. Don't beat too vigorously- you don't want to add air to the batter- and don't be concerned about any graininess. Next, stir in the eggs one at a time, followed by the vanilla. You should have a smooth, glossy batter. If you're not already using a rubber spatula, switch to one now and gently stir in the dry ingredients, mixing only until they are incorporated. Finally, stir in the milk chocolate chips. Scrape the batter into the pan.
5. Bake for about 35 minutes, or until a thin knife inserted into the center comes out streaked but not thickly coated. Transfer the pan to a cooling rack and let the brownies rest for at least 30 minutes.
6. Turn the brownies out onto a rack, peel away the foil and place it under another rack- it will be the drip catcher for the glaze. Invert the brownies onto the rack and let cool completely.
7. Prepare Glaze: Put the white chocolate in a heatproof bowl. Bring the heavy cream just to a boil and pour it over the chocolate. Wait 30 seconds, then, using a rubber spatula, gently stir until the chocolate is melted and the glaze is smooth.
8. Hold a long metal icing spatula in one hand and the bowl of glaze in the other. Pour the glaze onto the center of the brownies and use the spatula to nudge it evenly over the surface. Don't worry if it dribbles over the edges, you can trim the sides later (or not). Refrigerate the brownies for at least 30 minutes, or until the glaze is firm.
9. Cut into 16 squares, each roughly 2 1/4 inches on a side.
Tips:
*Top with raspberries for color and great combination of flavors!
One Response to "Quintuple Chocolate Brownies"
Leave a Comment