Secret Recipe Chocolate Chip Cookies
This recipe has been featured in a post on The Recipe Girl blog: "Secret Ingredient" Restaurant Quality Chocolate Chip Cookies.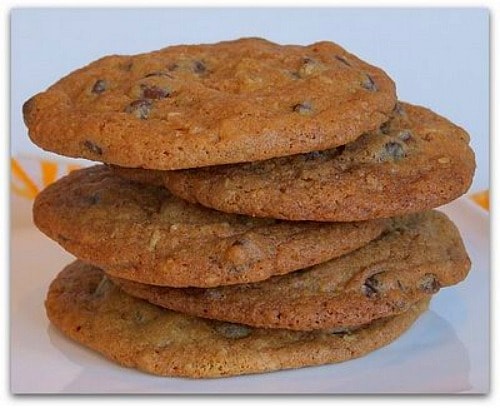 Yield: 2 dozen cookies
Prep Time: 25 min
Cook Time: 16 min
Secret Recipe Chocolate Chip Cookies
Excellent texture- chewy, and great flavor...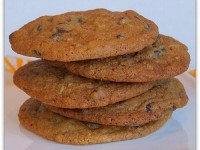 Ingredients:
1/2 cup rolled oats regular or quick
2 1/4 cups all-purpose flour
1 1/2 teaspoons baking soda
1/2 teaspoon salt
1/4 teaspoon ground cinnamon
1 cup butter
3/4 cup brown sugar, firmly packed
3/4 cup granulated white sugar
2 teaspoons vanilla extract
1 vanilla bean, scraped (optional)
1 teaspoon lemon juice, freshly squeezed
2 large eggs
3 cups semi-sweet chocolate chips
1 1/2 cups chopped walnuts, optional
Directions:
1. Preheat oven to 350° F. Cover 2 baking sheets with parchment paper or silpat mats.
2. Place rolled oats in blender or food processor and process until finely ground. Combine ground oats, flour, baking soda, salt and cinnamon in mixing bowl.
3. In another bowl, cream butter, sugars, vanilla, vanilla bean and lemon juice together using an electric mixer. Add eggs and beat until fluffy.
4. Stir the flour mixture into the egg mixture, blending well. Add chips and nuts (if desired) to the dough and mix well. Using 1/4 cup of dough for each cookie, scoop round balls with an ice cream scoop and place 2 1/2-inches apart on prepared baking sheets.
5. Bake until cookies are lightly browned, 16-18 minutes. Transfer to wire rack to cool completely. Store in a sealed container to keep them soft and chewy.
Tips:
*If you do not want to grind oats for this recipe, go ahead and use regular oats. Just make sure that you are using quick-cooking oats.
11 Responses to "Secret Recipe Chocolate Chip Cookies"
Leave a Comment