This recipe has been featured in a post on The Recipe Girl blog: Chocolate Freak Out… for my 100th post (along with instructions on how to make the decorative chocolate flowers too)! This chocolate cake is easily gluten-free adaptable– see tips below the recipe…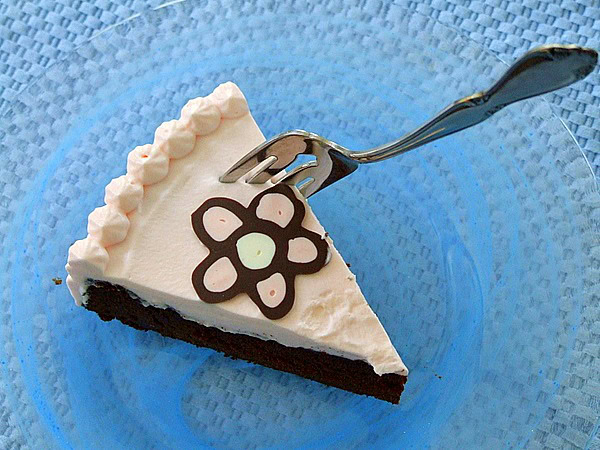 Yield: 8 servings
Prep Time: 40 min
Cook Time: 15 min
Chocolate Freak- Out Cake
A completely decadent chocolate dessert...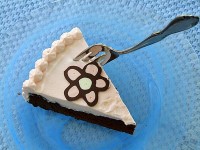 Ingredients:
1 pound semi-sweet or bittersweet chocolate, cut into 1-inch pieces
10 tablespoons unsalted butter
4 large eggs, separated
2 tablespoons all-purpose flour
pinch of salt
2 tablespoons granulated white sugar
powdered sugar or 1 cup of heavy whipping cream, whipped (for garnish)
Directions:
1. Preheat oven to 425°F. Butter sides and bottom of an 8-inch springform pan. Place an 8-inch round of wax paper on the bottom.
2. In the top of a large double boiler over medium heat, melt the chocolate, making sure no water touches it. Add the butter, mixing to incorporate it with the chocolate mixture as it melts. Cool the mixture.
3. In the medium bowl of an electric mixer, beat the egg yolks until fluffy and light lemon colored, about 5 minutes. Add the flour and continue mixing just until the flour is incorporated.
4. In another medium bowl of an electric mixer, beat the egg whites and salt until the whites begin to hold their shape. Add the sugar and continue whipping until they are thick and hold their shape but are not dry or overly stiff.
5. Add the cooled chocolate mixture to the egg yolks, mixing well. With a rubber spatula, slowly add one third of the egg whites to the chocolate mixture, mixing from the bottom of the bowl to blend the whites into the chocolate. Add the remaining whites and continue gently blending them in until there are no white streaks left. Pour the mixture into the prepared pan.
6. Bake the cake in the center of the oven for exactly 15 minutes. (It will look almost raw but will continue to cook as it cools.) Remove the cake from the oven and let it cool. To remove the cake from the pan, use a knife to separate the sides from the pan. When the cake is cool, place it on a serving platter and dust it with powdered sugar; or decorate with whipped cream all over the cake and then pipe rosettes all around the top in a circular border. Chill until ready to serve.
Tips:
*If you are preparing this recipe as gluten-free, substitute your favorite gluten-free flour blend for the all-purpose flour.
*This cake has the best texture when made a day ahead, refrigerated, and removed 1 hour before serving. It also freezes well.
Leave a Comment