This recipe has been featured in a post on The Recipe Girl blog: Deep Chocolate Gateau- A Rich Chocolate Cake for Two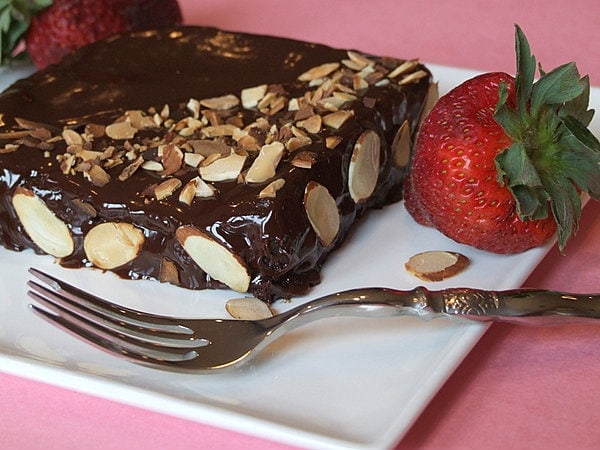 Yield: 2 servings
Prep Time: 25 min
Cook Time: 30 min
Deep Chocolate Gateau
This dessert recipe is designed for two!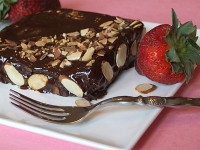 Ingredients:
CAKE:
2 1/2 ounces bittersweet (not unsweetened) or semi-sweet chocolate, chopped
4 tablespoons (1/2 stick) unsalted butter
2 tablespoons granulated white sugar
2 tablespoons honey
1 large egg
2 tablespoons finely chopped toasted almonds
1/4 teaspoon vanilla extract
1/8 teaspoon almond extract
pinch of salt
GLAZE:
1/4 cup whipping cream
2 ounces bittersweet (not unsweetened) or semi-sweet chocolate, chopped
1 tablespoon honey
1 drop almond extract
1 tablespoon + sliced almonds, toasted
Directions:
1. Prepare the cake: Preheat the oven to 325°F. Butter or spray a 9x5-inch metal loaf pan. Line the bottom of the pan with parchment paper. Butter or spray the parchment.
2. Combine the chocolate and butter in a heavy, small saucepan. Stir over low heat until melted. Cool slightly. Whisk the sugar, honey and egg to blend in a medium bowl. Stir in the chocolate mixture, almonds, vanilla, almond extract and salt. Pour into the prepared pan. Bake until a tester inserted into the center comes out clean, about 30 minutes. (Cake will only be about 1/2-inch high.) Cool 10 minutes in the pan. Turn out onto a rack; carefully peel off the parchment. Cool completely.
3. Prepare the glaze: Bring the cream to boil in a heavy, small saucepan. Remove from heat; add the chocolate and stir until melted. Mix in the honey and almond extract. Let cool for a few minutes.
4. Cut the cake in half to make two equal squares. Place 1 half on a rack with a piece of foil placed underneath. Spread with about 3 tablespoons glaze. Top with the second half of the cake. Pour the glaze on top of the cake and gently push the glaze to the edges and spread onto the sides. Let the chocolate drip off the sides of the cake. If you need more glaze, scoop up the chocolate that puddles onto the foil. You should have plenty.
5. Press the sliced almonds decoratively into the sides of the cake. Draw the tip of a knife across top of cake from 1 corner to the opposite corner. Sprinkle toasted, chopped almonds over top of cake, covering 1 triangle only. Gently transfer to a clean plate and chill until set.
Tips:
*This cake may be made 1 day ahead. Keep chilled. Let stand at room temperature for 30 minutes before serving.
*If you are preparing this cake as gluten-free, just be sure to use brands of chocolate, honey and extracts that are known to be GF.
Source: RecipeGirl.com (Adapted from an older issue of Bon Appetit)
Leave a Comment