Emergency Blender Cupcakes
Yield: 12 cupcakes
Prep Time: 15 min
Cook Time: 15 min
Emergency Blender Cupcakes
Called "emergency" cupcakes because they're for emergencies, as in "Mom, I forgot to tell you that you're supposed to bring cupcakes to school today...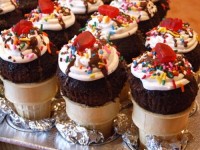 Ingredients:
1 cup all-purpose flour
1/2 cup unsweetened cocoa powder
1 cup granulated white sugar
1/2 teaspoon baking soda
1/4 teaspoon salt
3/4 cup hot water
1/2 cup canola oil
1 large egg
1 1/2 teaspoons vanilla extract
Directions:
1. Preheat oven to 375°F. Line 12 regular-sized muffin tin with paper or foil liners.
2. Combine flour, cocoa, sugar, baking soda, and salt in a blender. Cover with the lid and blend on medium-speed until blended. Pour in the water, oil, egg and vanilla. Cover with the lid and blend on medium-high speed until smooth and well-blended, stopping to scrape down the sides once or twice.
3. Pour into prepared pan/cups, dividing evenly. Bake until toothpick inserted in center of one cupcake comes out clean, 15-17 minutes.
4. Transfer to rack to cool for about 10 minutes, and then carefully remove cupcakes from the pan and set them on the rack to cool completely before frosting.
Tips:
*Pictured above-- Emergency Blender Cupcakes baked in foil wrappers- easily slip out and can be placed into ice cream cones for a fun birthday treat. Swirl frosting on top. Drizzle with Smucker's Magic Shell, sprinkles and top with a red gummy bear.
2 Responses to "Emergency Blender Cupcakes"
Leave a Comment