I whipped this up quickly and sent it with my husband on a guys camping trip. It was a big hit!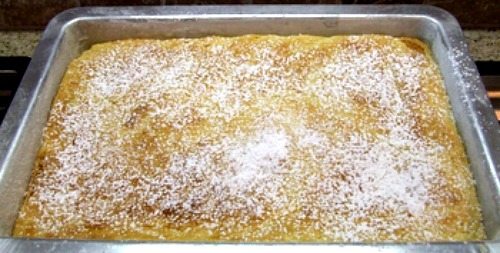 Yield: 16 servings
Prep Time: 15 min
Cook Time: 40 min
Ooey- Gooey Butter Cake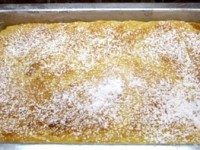 Ingredients:
CAKE:
1 box white, yellow or pound cake mix
2 large eggs
1/2 cup (1 stick) butter, melted
TOPPING:
2 large eggs
8 ounces cream cheese
1 pound powdered sugar (set 2 tablespoons aside)
Directions:
1. Preheat oven to 350 degrees F. Grease and flour 9x13-inch baking pan.
2. In large bowl, mix together cake mix, 2 eggs, and butter. Spread into prepared pan.
3. To make topping: Mix together 2 eggs, cream cheese and powdered sugar. Beat well and pour over cake batter. Bake for 35-45 minutes, or until cake seems fairly firm to touch in the center. Sprinkle with reserved powdered sugar.
SOURCE: RecipeGirl.com (recipe given to me-- maybe from Paula Deen, originally?)
Leave a Comment