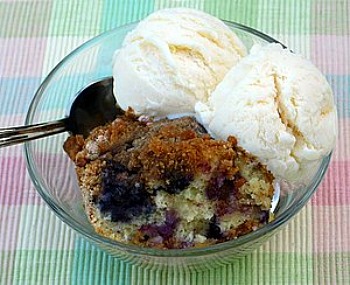 Yield: 9 servings
Prep Time: 20 min
Cook Time: 30 min
Blueberry Buckle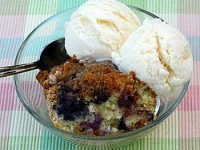 Ingredients:
2 cups fresh blueberries, washed and stemmed
1 Tablespoon fresh lemon juice
2 cups sifted all-purpose flour
2 teaspoons baking powder
dash of salt
1/4 cup butter, softened
2/3 cup granulated sugar
1 large egg, beaten
1/4 teaspoon vanilla extract
1/2 cup milk
TOPPING:
1/2 cup brown sugar, packed
1/3 cup all-purpose flour
1/2 teaspoon ground cinnamon
dash of nutmeg
1/2 stick butter, melted
Directions:
1. Place prepared blueberries in a bowl and sprinkle with lemon juice. Set aside.
2. Preheat oven to 375 degrees F. Grease and flour a 9x9-inch baking dish.
3. In a mixing bowl, sift together flour, baking powder, and salt. Set aside.
4. In a separate bowl, cream butter and sugar with an electric mixer. Blend in beaten egg, vanilla and milk. Stir dry ingredients into liquid until well blended. Gently fold in berries.
5. Pour batter into prepared pan.
6. In a small bowl, combine topping ingredients- brown sugar, flour, cinnamon and nutmeg. Sprinkle onto batter. Drizzle with butter.
7. Bake 30-35 minutes.
Leave a Comment