Lemon Cream and Raspberry Phyllo Napoleons
A beautiful, stacked, restaurant-style dessert:  Lemon Cream and Raspberry Phyllo Napoleons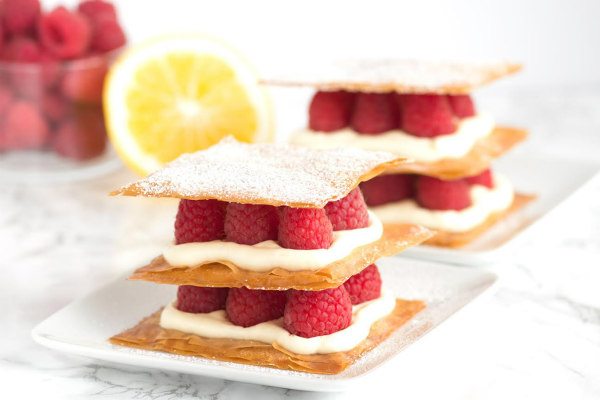 This is a lovely recipe for a summer dinner party.
Yield: 6 servings
Prep Time: 30 minutes
Cook Time: 10 minutes
Lemon Cream and Raspberry Phyllo Napoleons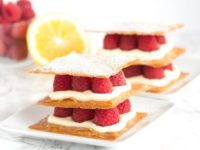 Ingredients:
PHYLLO SQUARES:
6 fresh phyllo pastry sheets or frozen, thawed
6 generous teaspoons granulated white sugar
2 tablespoons unsalted butter, melted
LEMON CREAM:
1/2 cup chilled whipping cream
1 1/2 teaspoons powdered sugar
1/2 teaspoon vanilla extract
1/4 cup purchased lemon curd
BERRIES:
2 (1/2-pint) baskets fresh raspberries
powdered sugar
Directions:
Preheat oven to 375°F.
For Phyllo Squares: Lightly spray 2 large baking sheets with nonstick spray. Stack phyllo sheets on work surface. Trim to 10 1/2-inch square (set scraps aside for another use). Place 1 phyllo square on work surface (cover remaining phyllo with plastic wrap and damp kitchen towel). Sprinkle with 1 generous teaspoon sugar. Top with a second phyllo square. Brush lightly with melted unsalted butter. Sprinkle with 1 generous teaspoon sugar. Top with a third phyllo square. Sprinkle with 1 generous teaspoon sugar. Cut phyllo stack into 9 equal stacked squares. Arrange stacked phyllo squares on prepared baking sheet. Repeat layering and cutting with remaining 3 phyllo sheets, sugar and butter making total of 18 stacked phyllo squares. Bake until phyllo is golden, about 10 minutes. Transfer baking sheets to racks and cool completely.
For Lemon Cream: In a large bowk, use an electric mixer to beat the cream, 1 1/2 teaspoons powdered sugar and vanilla until medium peaks form. Whisk the lemon curd in another medium bowl until smooth. Add to the cream mixture. Beat to the consistency of stiff peaks.
Spread 1 generous tablespoon of the lemon cream on each of 6 stacked phyllo squares. Top each square with 6 raspberries. Layer each with 1 phyllo square, 1 more tablespoon of the lemon cream and 6 raspberries (save any remaining lemon cream for another use). Top each with 1 phyllo square. Sift powdered sugar over desserts. (Can be prepared 8 hours ahead. Cover loosely and refrigerate).
Tips:
Use a pastry bag to dole out the cream to create a very neat and beautiful look.
You can also try using strawberry slices in place of raspberries.
Lemon curd is available in the preserves section of most supermarket.
Try grating chocolate over the top for a finishing touch.
For an easy way out, try using the pre-made phyllo cups instead of making the napoleon. Just add a teaspoon of lemon cream in each cup and garnish with raspberries and blueberries.
SOURCE
: RecipeGirl.com (recipe originally in 
Bon Appetit
)
Leave a Comment