Maple Topped Apple- Cranberry Crisp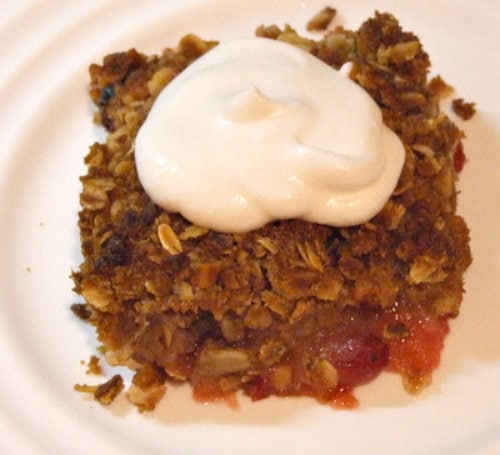 Prep Time: 30 min
Cook Time: 1 hr
Maple- Topped Apple- Cranberry Crisp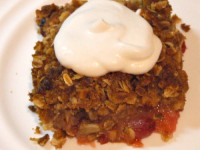 Ingredients:
CRISP:
1 cup rolled (old fashioned) oats
3/4 cup all-purpose flour
3/4 cup dark brown sugar, firmly packed
1 teaspoon ground cinnamon
1/2 teaspoon salt
1/4 teaspoon ground nutmeg
1/2 cup (1 stick) cold unsalted butter, cut into pieces
3/4 cup walnuts, chopped (optional)
FILLING:
8 large tart green apples (Granny Smith), peeled, cored and cut into 1/4-inch slices
1 1/3 cups fresh cranberries
1/3 cup granulated white sugar
2 tablespoons freshly squeezed lemon juice
MAPLE WHIPPED CREAM:
1 cup whipping cream
1 tablespoon maple syrup
Directions:
1. Preheat oven to 375°F. Butter 9x13-inch pan.
2. Prepare the crisp: Mix oats, flour, brown sugar, cinnamon, salt and nutmeg in a small bowl. Cut in butter with a pastry cutter or two knives until the mixture resembles coarse meal. Stir in walnuts, if using. Cover and refrigerate (this mixture may be prepared 1 day ahead).
3. Prepare the filling: Combine apples, cranberries, sugar and lemon juice in a large bowl; toss gently. Transfer fruit to prepared dish. Sprinkle refrigerated topping over fruit.
4. Cover with foil and bake 20 minutes. Uncover and continue baking until apples are tender and topping browns, about 40 minutes. Cool slightly.
5. Prepare maple whipped cream: In a large bowl, whip cream to soft peaks. Beat in 1 Tablespoon of syrup. Taste, adding more syrup if sweeter flavor is desired. Continue whipping to firm peaks.
6. Spoon warm crisp into bowls. Top each with a dollop of maple whipped cream and serve.
Leave a Comment