Pumpkin Spice Dip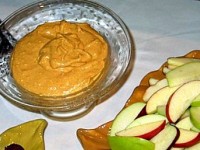 Ingredients:
Two 8-ounce packages cream cheese, softened
1 cup powdered sugar, sifted
One 15-ounce can (unsweetened) pure pumpkin
1 teaspoon ground ginger
1 teaspoon ground cinnamon
Directions:
1. In large bowl, use an electric mixer to blend cream cheese with sugar. Add pumpkin and spices and blend well. Place dip in a serving bowl.
2. Serve with gingersnaps or sliced apples.
One Response to "Pumpkin Spice Dip"
Leave a Comment