Chocolate- Toasted Almond Fudge
This fudge is gluten-free adaptable (see tips below the recipe…)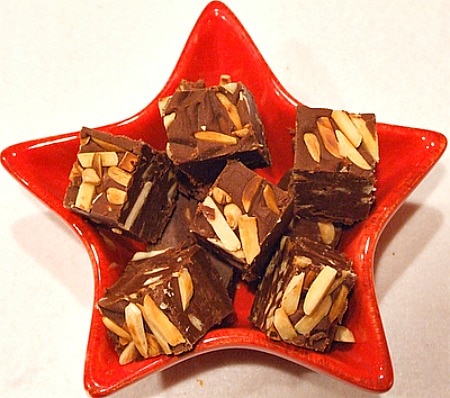 Yield: 24 pieces
Prep Time: 25 min
Cook Time: 15 min
Chocolate- Toasted Almond Fudge
Almond lovers will enjoy this one. Nice thick chunks of fudge. Easy to make if you have a candy thermometer.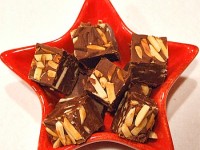 Ingredients:
6 ounces bittersweet (not unsweetened) or semi-sweet chocolate, chopped
1/4 cup jarred marshmallow creme
1 1/2 ounces unsweetened chocolate, chopped
1 teaspoon vanilla extract
1/8 teaspoon almond extract
1 1/2 cups granulated white sugar
3/4 cup sweetened condensed milk
1/3 cup water
1/3 cup whipping cream
1/4 cup (1/2 stick) unsalted butter, cut into pieces
3/4 cup slivered almonds, toasted
Directions:
1. Line 9x5-inch loaf pan with foil, overlapping sides.
2. Place first 5 ingredients (through almond extract) in medium metal bowl; set aside.
3. Combine sugar, condensed milk, water, cream and butter in heavy 3-quart saucepan. Stir over medium-low heat until sugar dissolves. Increase heat to high and bring mixture to rolling boil. Reduce heat to medium-high and stir mixture constantly but slowly with wooden spoon until clip-on candy thermometer registers 234°F., about 9 minutes.
4. Pour mixture over ingredients in metal bowl (do not scrape pan). Stir fudge vigorously with a wooden spoon for about 2 minutes (chocolates will melt and fudge will thicken slightly, but mixture will still be very glossy). Set aside 2 Tablespoons of toasted nuts for garnish; stir remaining nuts into the fudge.
5. Transfer fudge to prepared pan; smooth top with rubber spatula. Sprinkle with reserved nuts. Refrigerate uncovered until firm enough to cut, about 2 hours.
6. Using foil as aid, lift fudge from pan. Fold down foil sides. Trim ends of fudge to even. Cut into 24 pieces.
Tips:
*This fudge may be prepared 1 week ahead. Refrigerate in airtight container. Bring to room temperature before serving.
*If preparing this fudge as gluten-free, just be sure to use a brand of chocolate that is known to be GF.
Leave a Comment