Sauteed Chicken with Olives, Capers and Roasted Lemons
This recipe has been featured in a post on The Recipe Girl blog: Sauteed Chicken with Olives, Capers and Lemons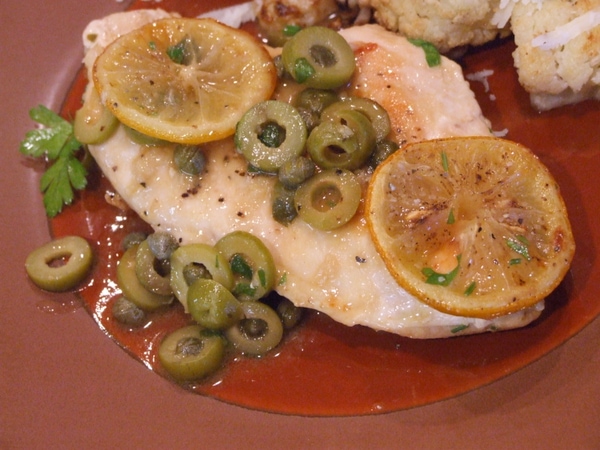 Yield: 4 servings
Prep Time: 30 min
Cook Time: 40 min
Sauteed Chicken with Olives, Capers and Roasted Lemons
This recipe is big-time restaurant quality. Our family loves all of the flavors in this chicken dish, and the roasted lemons are AMAZING!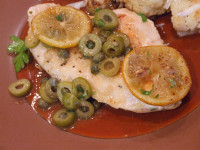 Ingredients:
1/4 cup extra-virgin olive oil, plus more for drizzling
2 medium lemons, sliced 1/4-inch thick
kosher salt and freshly ground black pepper
Four 6-ounce skinless, boneless chicken breast halves
1/4 cup all-purpose flour
1/2 cup pitted green Sicilian or Spanish olives, sliced
2 Tablespoons drained capers
1 cup low-sodium chicken broth
3 Tablespoons unsalted butter, cut into small pieces
2 Tablespoons chopped flat-leaf parsley
Directions:
1. Preheat oven to 375°F. Line a baking sheet with parchment paper. Drizzle a little bit of olive oil on the parchment, then arrange the lemon slices in a single layer. Drizzle the lemons lightly with more oil and season with salt and pepper. Roast for about 20 minute, until the lemons begin to brown around the edges.
2. In a deep medium skillet, heat the remaining 1/4 cup of oil. Season the chicken with salt and pepper and dust with the flour, shaking off the excess. Cook the chicken over high heat, turning once, until golden, about 6 minutes. Add olives, capers and stock and bring to a boil. Cook over high heat until stock is reduced by about two-thirds, about 5 minutes. Add the roasted lemons, butter and parsley. Season with salt and pepper, and simmer just until the chicken is cooked through, about 1 minute.
3. Transfer the chicken to plates and spoon the sauce on top.
Tips:
*Great served with rice or roasted potatoes.
2 Responses to "Sauteed Chicken with Olives, Capers and Roasted Lemons"
Leave a Comment