This is such an incredibly easy "microwave" dinner > Smothered Chicken. It's quick to fix and not a lot of extra stuff that the kids won't eat.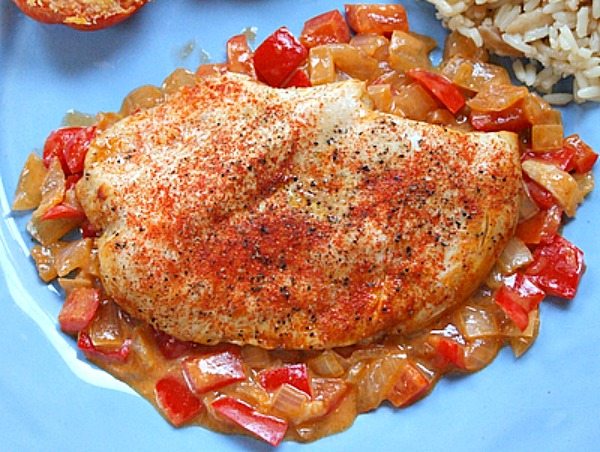 Yield: 4 servings
Prep Time: 20 min
Cook Time: 15 min
Smothered Chicken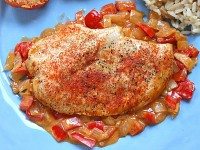 Ingredients:
1 large onion, diced
2 teaspoons olive oil
1 whole garlic head (unpeeled)
1 medium red bell pepper, ribs and seeds removed, diced
1 tablespoon tomato paste
Four 6-ounce skinless boneless chicken breast halves
2 teaspoons paprika
coarse salt and ground pepper
3 tablespoons reduced-fat mayonnaise
2 teaspoons freshly squeezed lemon juice
Directions:
1. In a 2-quart microwave-safe dish, toss onion with oil. Place garlic in the center. Cover; microwave on high 5 minutes. Stir bell pepper and tomato paste into onion.
2. Rub chicken with paprika and 1/2 teaspoon each salt and pepper; place on vegetables, with thickest part of breast facing edge of dish. Cover; cook on high until chicken is opaque throughout, about 10 minutes. Remove chicken.
3. Remove garlic; slice off top, and squeeze cloves into a small bowl. Add mayonnaise and lemon juice; mash with a spoon. Stir into vegetables; spoon onto plates and serve chicken on top.
Tips:
*If you are preparing this recipe as GLUTEN-FREE, just be sure to use a brand of mayonnaise that is known to be GF.
Nutritional Information per serving:
Serving size: 1 chicken breast + 1/4 tomato mixture
Calories per serving: 271
Fat per serving: 7.7g
Saturated Fat per serving: 1.26g
Sugar per serving: 3.27g
Sodium per serving: 199mg
Fiber per serving: 1.7g
Protein per serving: 40.5g
Cholesterol per serving: 102mg
Carbohydrates per serving: 8.69g
WW POINTS per serving:
Points Plus Program: 6 Old Points Program: 6
Leave a Comment