Ginger- Glazed Pork Tenderloin
This recipe is gluten free- adaptable- please see tips below the recipe…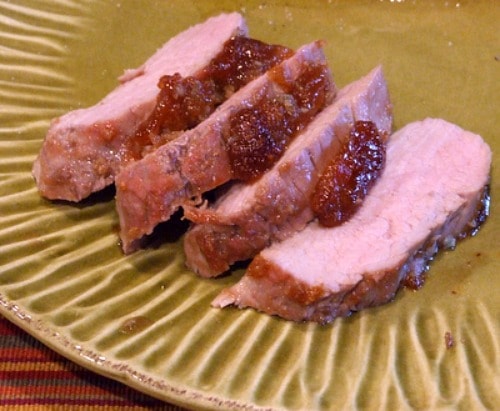 Yield: 6 servings
Prep Time: 10 min
Cook Time: 25 min
Ginger- Glazed Pork Tenderloin
A super-simple recipe with great flavor...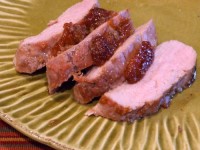 Ingredients:
2 pounds pork tenderloin
1/2 teaspoon salt
1/3 cup apricot jam
3 cloves garlic, minced
1 Tablespoon water
1 Tablespoon soy sauce
1 Tablespoon finely grated fresh ginger
Directions:
1. Preheat oven to 425 degrees F.
2. Place pork on lightly greased rack in a foil-lined roasting pan. Sprinkle evenly with salt.
3. Combine remaining ingredients and spread evenly over pork.
4. Bake 25 minutes, or until meat thermometer registers 155 degrees F. Remove from oven; cover and let stand 10 minutes, or until thermometer reaches 160 degrees F.
Tips:
*To prepare this recipe as GLUTEN FREE, just be sure to use a brand of soy sauce that is known to be GF.
*Be sure to place thermometer in the thickest portion of the meat.
Nutritional Information per serving:
Serving size: 1/6th of the recipe
Calories per serving: 229
Fat per serving: 5.25g
Saturated Fat per serving: 1.75g
Sugar per serving: 11.46g
Fiber per serving: .13g
Protein per serving: 32g
Cholesterol per serving: 98mg
Carbohydrates per serving: 12.38g
WW POINTS per serving:
Points Plus Program: 6 Old Points Program: 5
Leave a Comment