Maple Walnut Spice Cookies
This recipe has been featured in a post on The Recipe Girl blog: Maple- Walnut Spice Cookies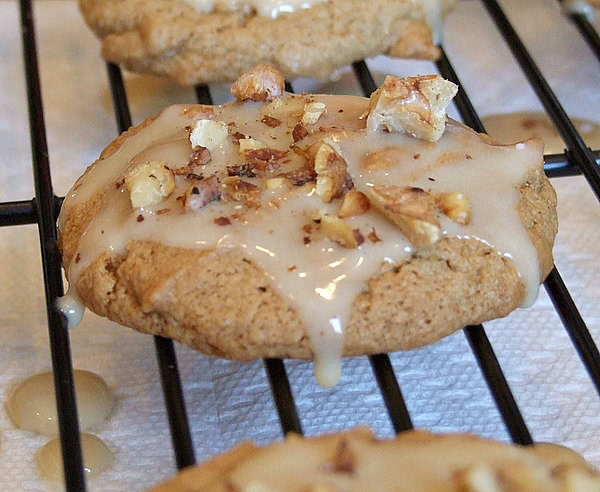 Yield: 30 cookies
Prep Time: 30 min
Cook Time: 14 min
Maple- Walnut Spice Cookies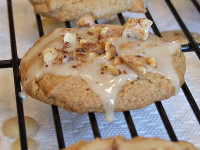 Ingredients:
COOKIES:
1 1/2 cups all-purpose flour
1/2 teaspoon baking soda
1/2 teaspoon ground ginger
1/2 teaspoon ground cinnamon
1/4 teaspoon salt
1/8 teaspoon ground nutmeg
1/8 teaspoon ground cloves
3/4 cup packed dark brown sugar
1/4 cup (1/2 stick) salted butter, softened
2 tablespoons maple syrup
1 large egg
GLAZE:
1 cup powdered sugar
2 tablespoons maple syrup
1/2 teaspoon nonfat milk (or more if you'd like it thinner)
2 teaspoons salted butter, softened
TOPPING:
1/2 cup finely chopped walnuts, toasted
Directions:
1. Preheat oven to 350°F.
2. Prepare the cookies: In a medium bowl, whisk together the flour and next 6 ingredients (through cloves) in a medium bowl.
3. Use an electric mixer to combine the brown sugar and 1/4 cup butter in a large bowl; beat at high speed until light and fluffy (about 4 minutes). Add 2 tablespoons syrup and egg; beat until well blended. Beating at low speed, gradually add flour mixture; beat just until combined.
4. Spoon batter evenly into 30 mounds (about 1 tablespoon) 2 inches apart on baking sheets lined with parchment paper or a silpat mat (or lightly grease baking sheets). Bake for 14 minutes or until lightly browned. Cool on pans 5 minutes. Remove from pans; cool completely on wire racks.
5. Prepare the frosting: Combine powdered sugar, 2 tablespoons syrup, milk, and 2 teaspoons butter, stirring with a whisk until smooth. Add 1/2 tablespoon more milk if a thinner consistency is desired. Spread frosting evenly over cooled cookies. Working quickly, sprinkle cookies with nuts.
Tips:
*The glaze will be thin. Place cookies on rack with waxed paper underneath. Drizzle the glaze and let it drip off the sides of the cookies. The glaze will set on the cookies and you can just throw the waxed paper mess away.
*To make ahead- bake cookies and freeze up to one month in advance. Bring cookies to room temp. before glazing.
Nutritional Information per serving:
Serving size: 1 cookie
Calories per serving: 82
Fat per serving: 3.3g
Saturated Fat per serving: 1.32g
Sugar per serving: 7.06g
Sodium per serving: ,span class="sodium">46g
Fiber per serving: .33g
Protein per serving: 1.18g
Cholesterol per serving: 11.8mg
Carbohydrates per serving: 12.35g
WW POINTS per serving:
Points Plus Program: 2 Old Points Program: 2
3 Responses to "Maple Walnut Spice Cookies"
Leave a Comment