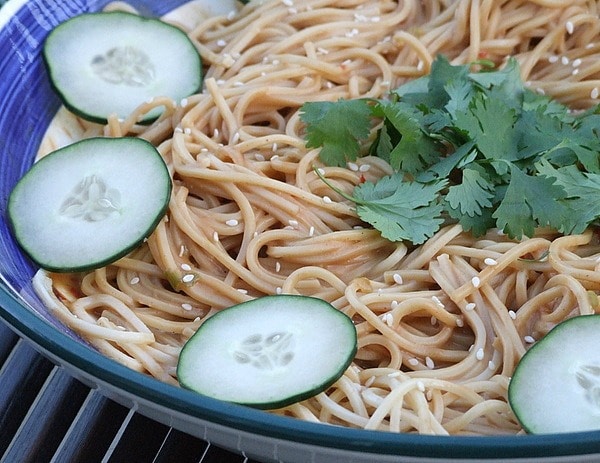 Yield: 4 servings
Prep Time: 25 min
Cook Time: 14 min
Cold Sesame Noodles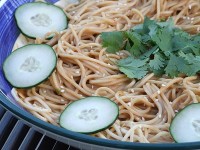 Ingredients:
1/2 pound Chinese egg noodles
2 tablespoons dark sesame oil
1 tablespoon peanut oil
2 whole green onions, thinly sliced on the diagonal
One 1-inch piece of fresh ginger, minced
3 cloves garlic, minced
1 teaspoon red chile paste, such as sambal oelek
2 tablespoons packed light brown sugar
1/2 cup creamy peanut butter
3 tablespoons rice vinegar
3 tablespoons soy sauce
6 tablespoons hot water
1 tablespoon toasted sesame seeds
cucumber slices for garnish, optional
fresh cilantro leaves for garnish, optional
Directions:
1. Cook the noodles in a large pot of boiling unsalted water over medium heat until barely tender and still firm. Drain immediately and rinse with cold water until cool. Drain the noodles really well and transfer to a wide bowl; toss with the sesame oil so they don't stick together.
2. In a small saucepan, heat the peanut oil over medium-low. Add green onions, ginger, garlic, and chili paste. Cook and stir for a minute until soft and fragrant. Mix in brown sugar, peanut butter, vinegar, soy sauce, and hot water. Stir until sugar is dissolved and the peanut butter has smoothed out. Toss the noodles with the peanut sauce until well coated. Serve at room temperature or chilled. Garnish with sesame seeds, cucumber slices and cilantro
Leave a Comment